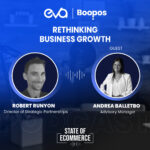 Are you ready to take your business to the next level and explore new growth options? 🚀
In this episode of State of E-commerce, we'll provide valuable insights into the current state of the market in 2023, and explain the concepts of horizontal and vertical integration. ✅
By understanding these strategic rationales for external growth options such as takeovers and mergers, you'll make informed decisions for your business. And the best part? We'll show you how to grow your business through acquisitions! 👌
Our partners at Boopos are dedicated to helping entrepreneurs like you achieve their goals. 🎯
Sign up for a Free Account today and you'll get access to a dedicated advisor and pre-approved opportunities to help you buy businesses.
Getting Started With Eva Is Easy
Ready To Grow?
Start A Free Trial
Create an Eva account in seconds & link your Amazon account. Get a complimentary onboarding call to properly configure & dial in your settings or do-it-yourself using our help library containing 150+ articles and videos.
Have Questions?
We Got You
Need a little more guidance? Connecting with one of our experienced consultants is the best place to start.