As an Amazon seller, you know that product images are essential. They're one of the first things customers see when they search for a product, and they can make or break a sale. So, how do you make sure your product images stand out? By following Amazon product image requirements!
This blog post will tell you what those requirements are and how to comply with them. Whether you're new to selling on Amazon or just looking to improve your listings, read on for tips on making your product images look their best.
Why Is The Amazon Product Image So important?
"A picture is worth a thousand words," they say, and studies show that the human brain processes image 60,000 times faster than text. Simply put, the product image is your first opportunity to close a sale because the image you include in your listing is the customer's first impression of your product.
After all, Amazon is a visual marketplace. Consumers need to see what they're buying to make a confident purchase decision. Amazon knows this, which is why they've made product images such a high priority.
Product images are so important that they even offer guidelines on optimizing them for better results. They're typically displayed in two different ways on the listing page: The main image and the Amazon product image gallery.
The main image is the first image a customer sees when they visit an Amazon listing page, so it's essential to make sure that this image is high-quality and accurately represents the product.
The Amazon product image gallery is a series of additional images that provide further details about the product. This is a great opportunity to showcase the product from different angles or highlight features that might not be immediately obvious from the main image.
How Do Amazon Product Images Affect Conversion Rates?
More than 75% of the customers have said that the product image strongly impacts their purchase decisions. Product images give shoppers a better idea of what the product looks like and can help increase conversion rates.
Amazon Product Images can also help to build trust with potential customers. By seeing what the product looks like, shoppers can be reassured that they are getting what they expect. This is especially important for products that are not well known, or for Amazon products that are not available in brick-and-mortar stores. In these cases, Amazon Product Images can be the deciding factor between a sale and no sale.
Overall, the impact of product images on your conversion rate can be broken down into 2 ways:
1. Product photos help your Amazon brand look more professional, which gains customer trust.
2. Images of your products make difficult concepts easy to understand.
Different Types of Amazon Product Images
You can move on to image types once you are familiar with the technical specifications for Amazon listing images.
Amazon Storefront Images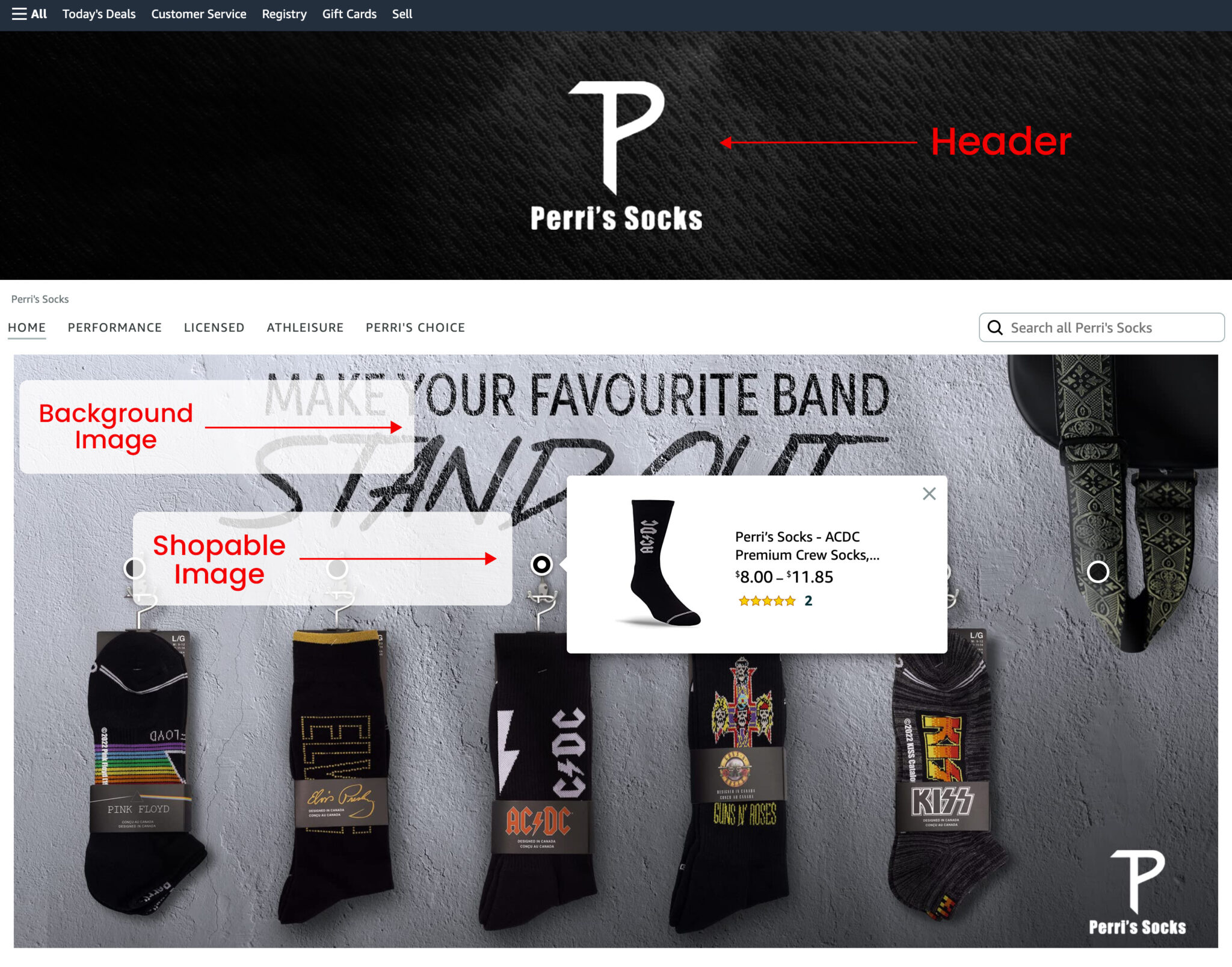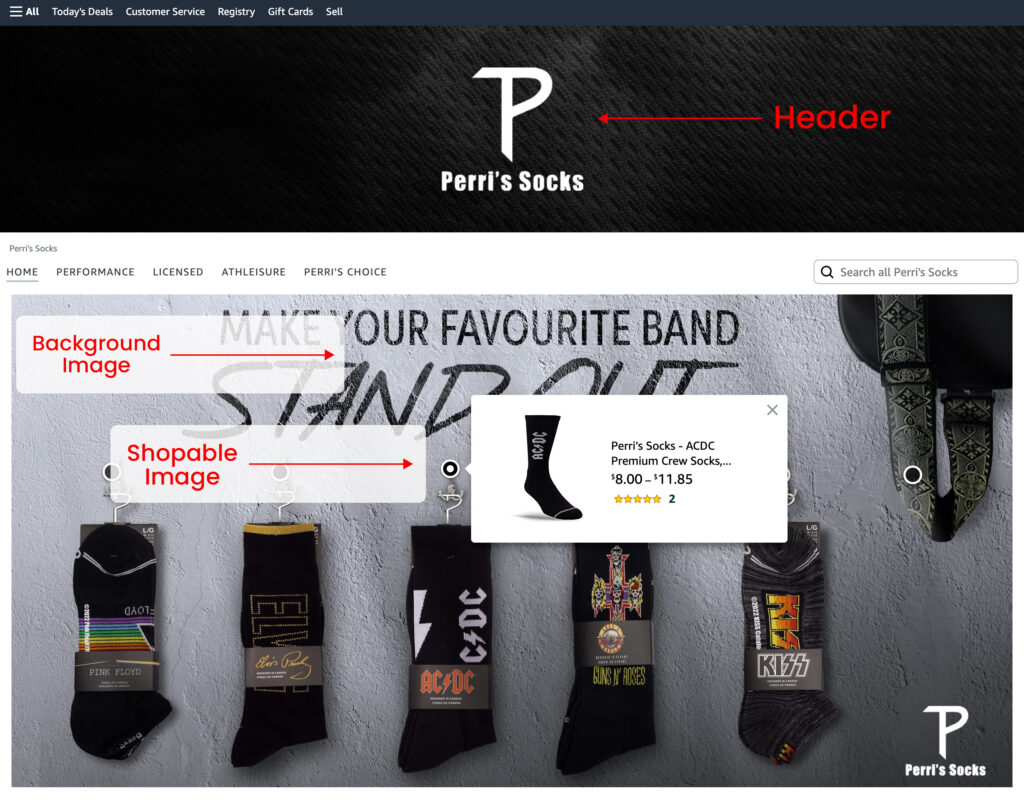 Aside from product listings on Seller Central, Amazon also provides an additional feature known as the Amazon Storefront.
Unlike product listings on an Amazon SERP (search results page), a storefront is only dedicated to your brand. A Storefront contains no competitor products. A Storefront, like any other product page, includes images. The product photos on this section of Amazon must also be of high quality.
The storefront image includes the following:
1. Header
It appears at the Store's top. It includes a hero image, the company logo, and a navigation bar. Choose your hero image carefully so customers will remember you (check out the sample image below).
2. Image Tile
This section can link to an Amazon Storefront page or a product detail page. Because images in this section include a link element, the lower 19% of your product image will be obscured.
3. Shoppable Image Tile
If you sell more than one product, this section acts as a shelf with images of at least six different products. Customers can click interactive points in these images to buy or be directed to your product detail page.
The Main Product Image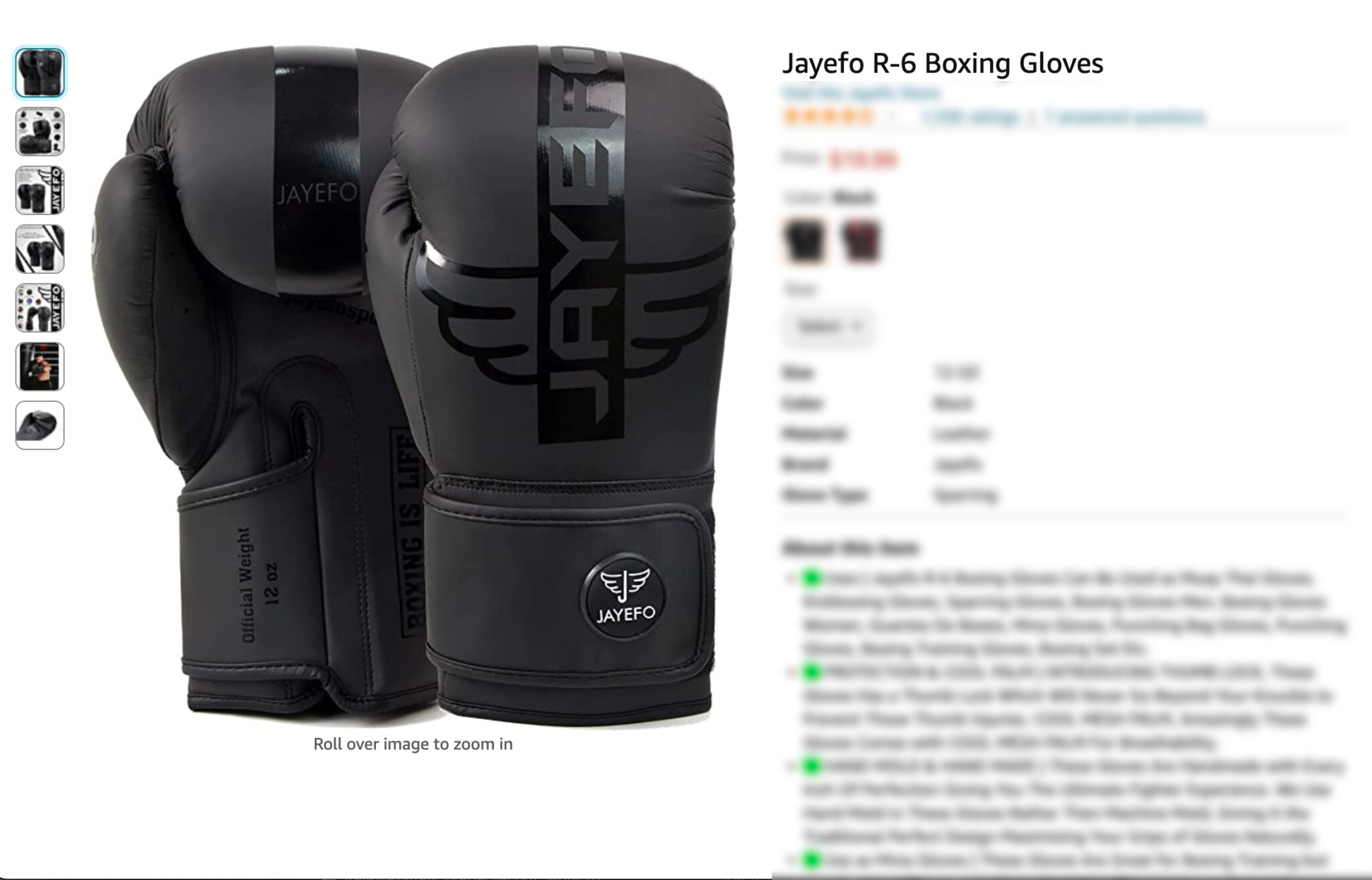 The first image on your list of photos is the main image, whose technical specifications you can review above. It is a picture of your actual product and does not stray in any way from it.
Your entire product must be shown in the image, with no details cropped out. That reduces confusion, which sweetens the customer experience.
Lifestyle Photograph (Product-in-Use Images)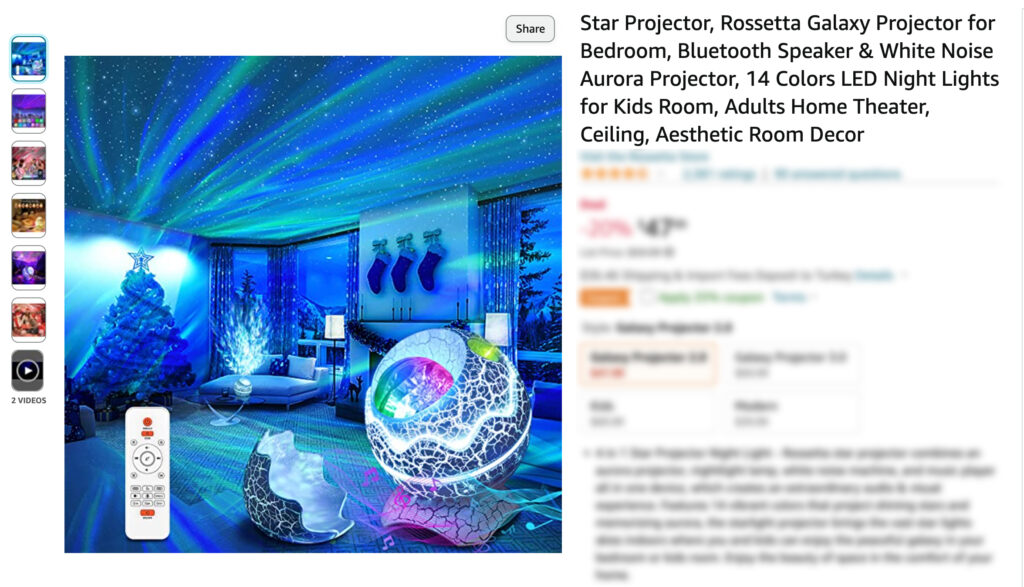 Lifestyle images are regarded as additional pictures. They do not require a background that is completely white as a result. Instead, this presents a chance for you to demonstrate your product.
You'll sell more when potential customers can picture themselves using your product. The best way to do this is to display examples of your product in use.
Infographics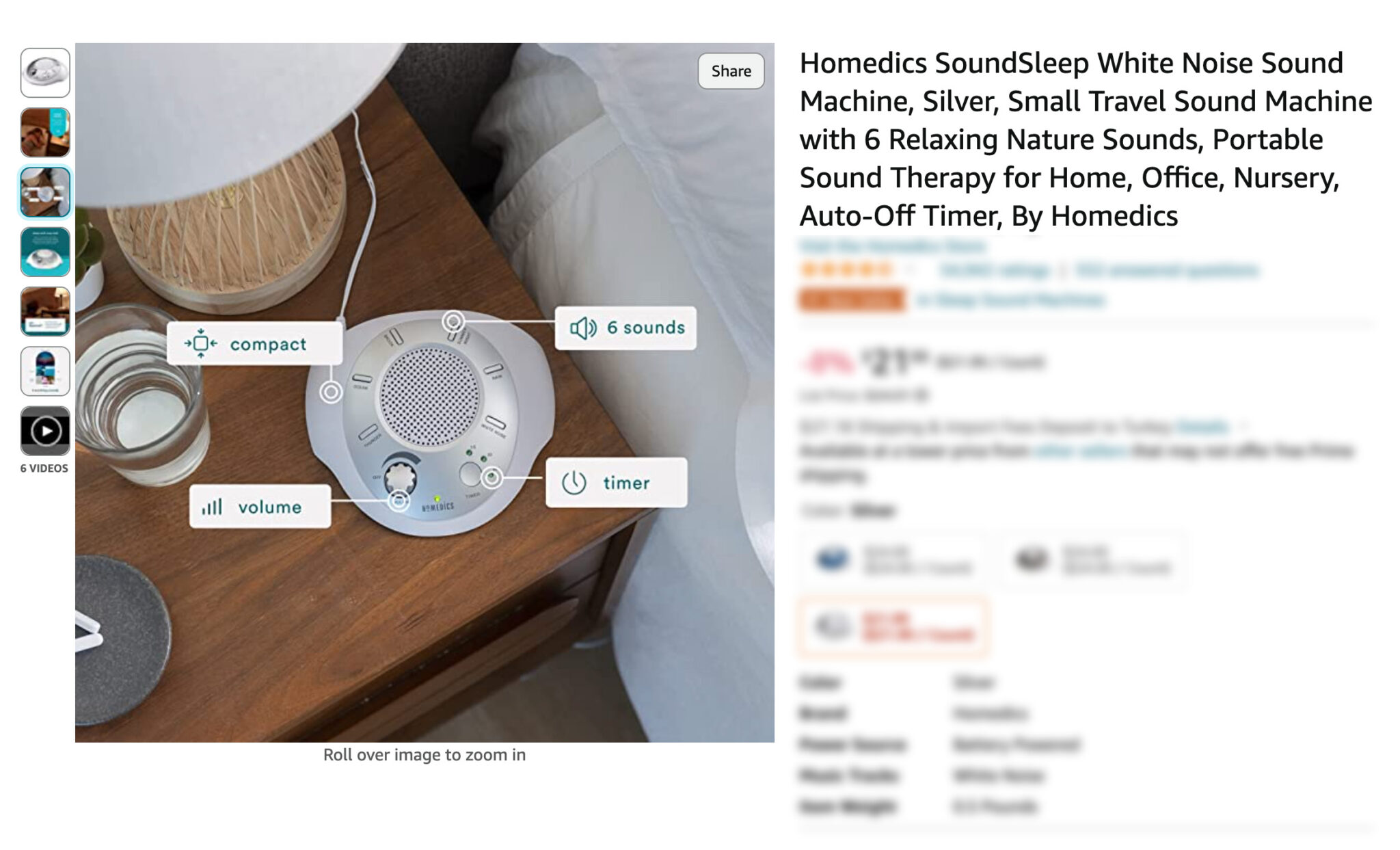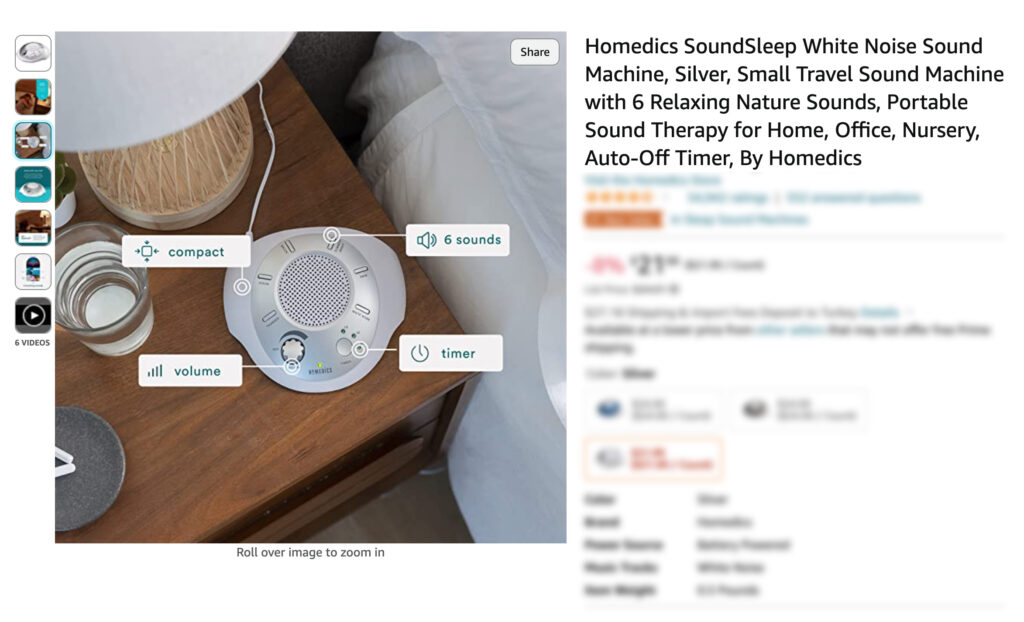 Infographics give users a chance to see data demonstrating the value of your offering. Even though the infographic up top is one of the simpler examples, it still serves as a fantastic illustration of what image files are capable of.
Infographics combine the appeal of information with a visual aspect of your product's appearance. It stops your customer from scanning slightly to the right and downward for justifications to purchase your offering.
Product Packaging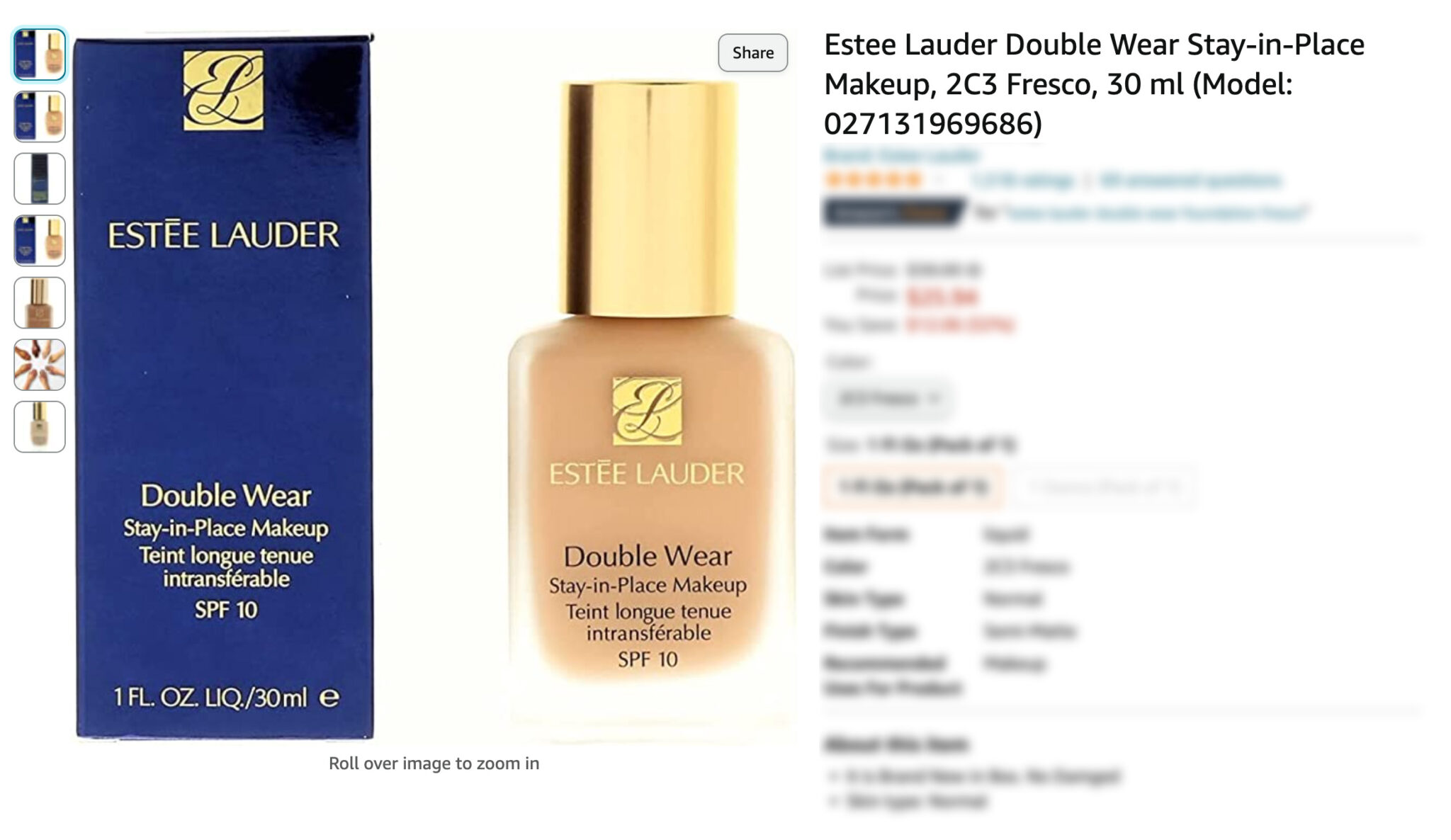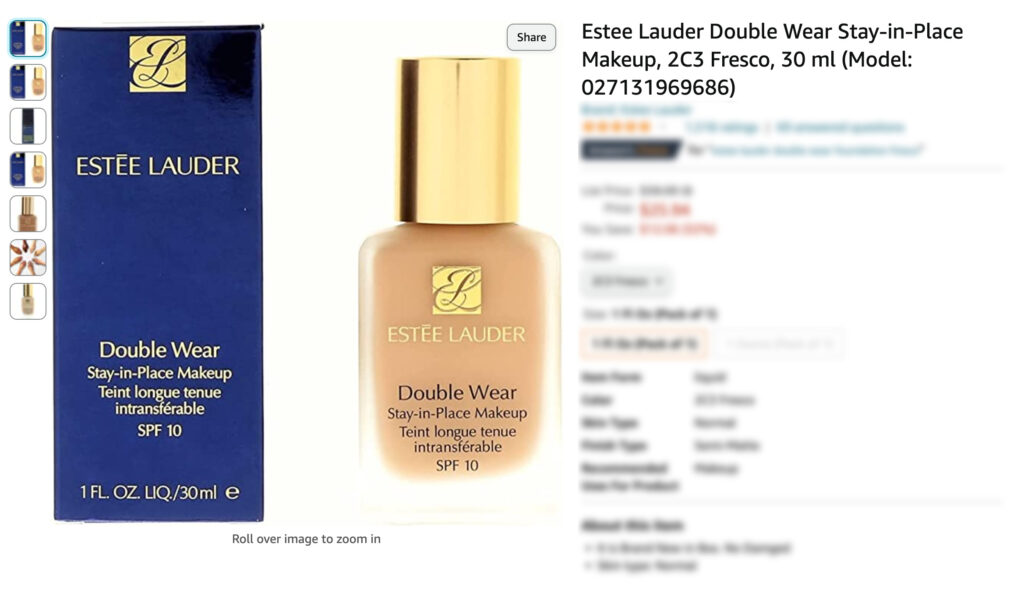 The illustration up top combines infographics with product packaging. If your product packaging is of a high caliber, displaying it can draw attention to the caliber of your offering.
If you sell gift sets, displaying product packaging can be very helpful. One way to raise the "wow factor" in gift sets is with high-quality packaging.
Dimensions Of The Product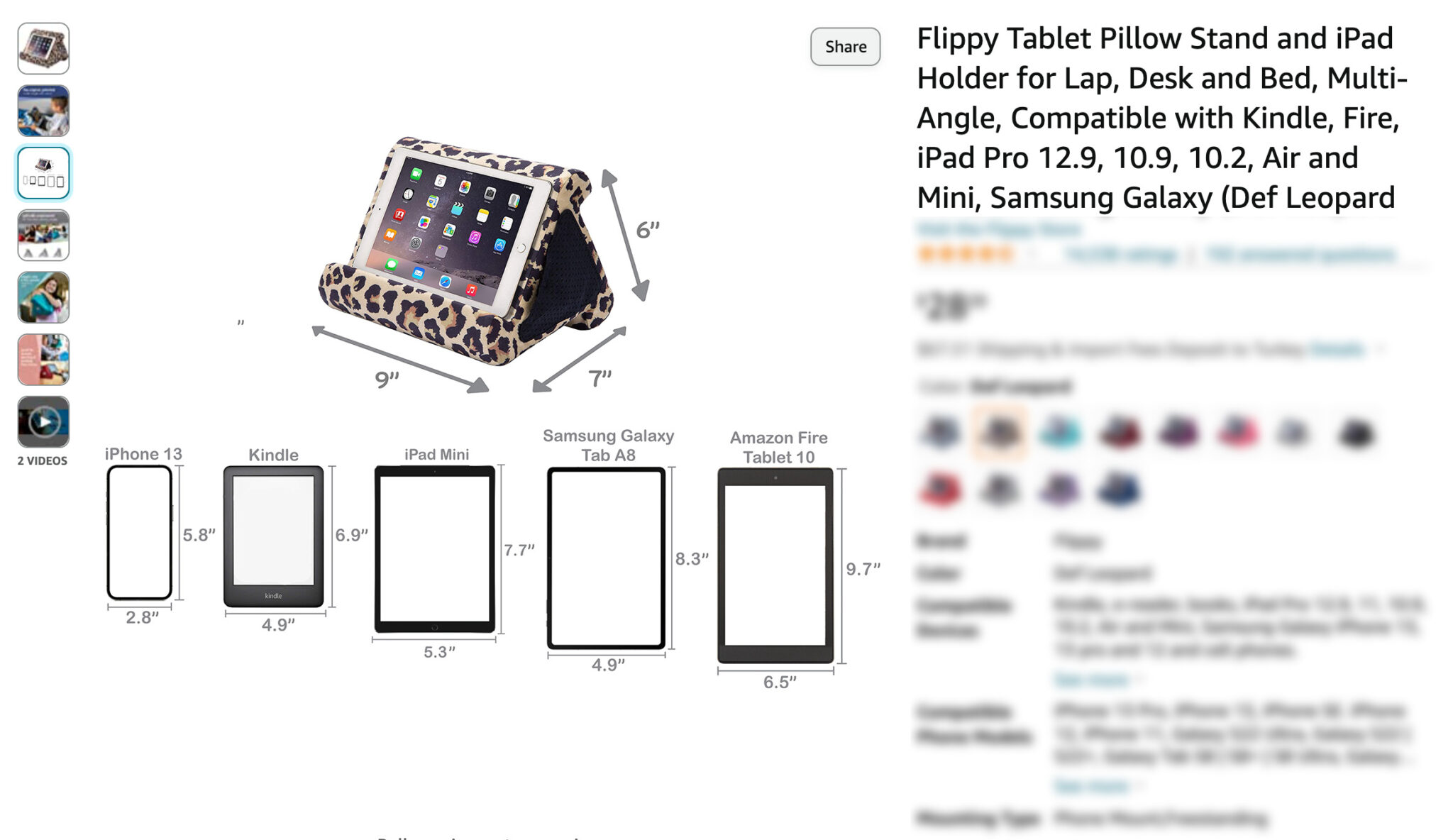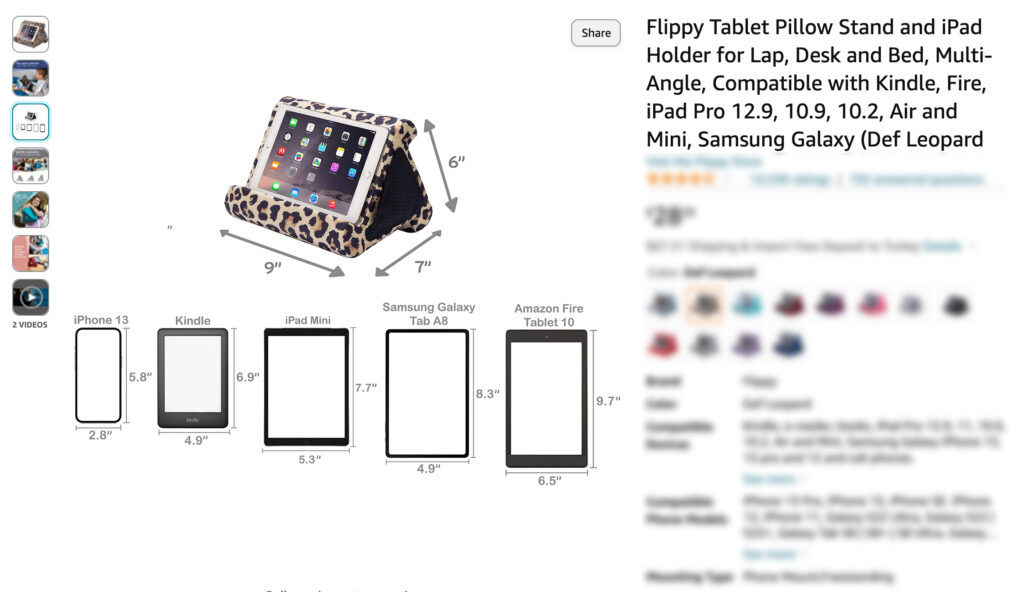 There are two types of images that show a product's dimensions: those that compare the item's size to another object and those that include precise measurements.
In both cases, customers can see how the item might appear in their collections. Details about a product's dimensions give the impression that you are viewing an infographic. Additionally, it enables you to evaluate your product against objects of known dimensions (such as a Laptop).
Before/After Product Images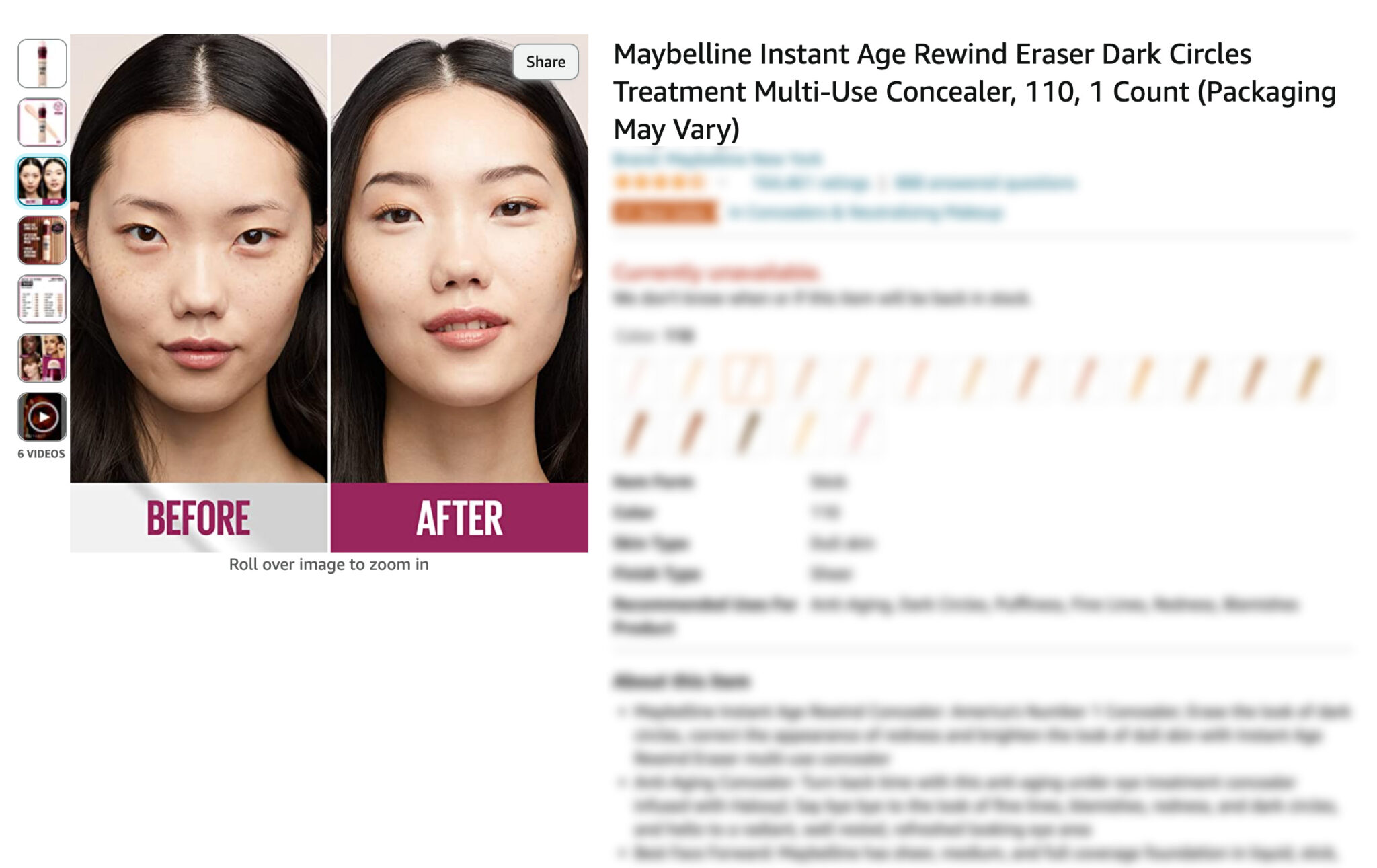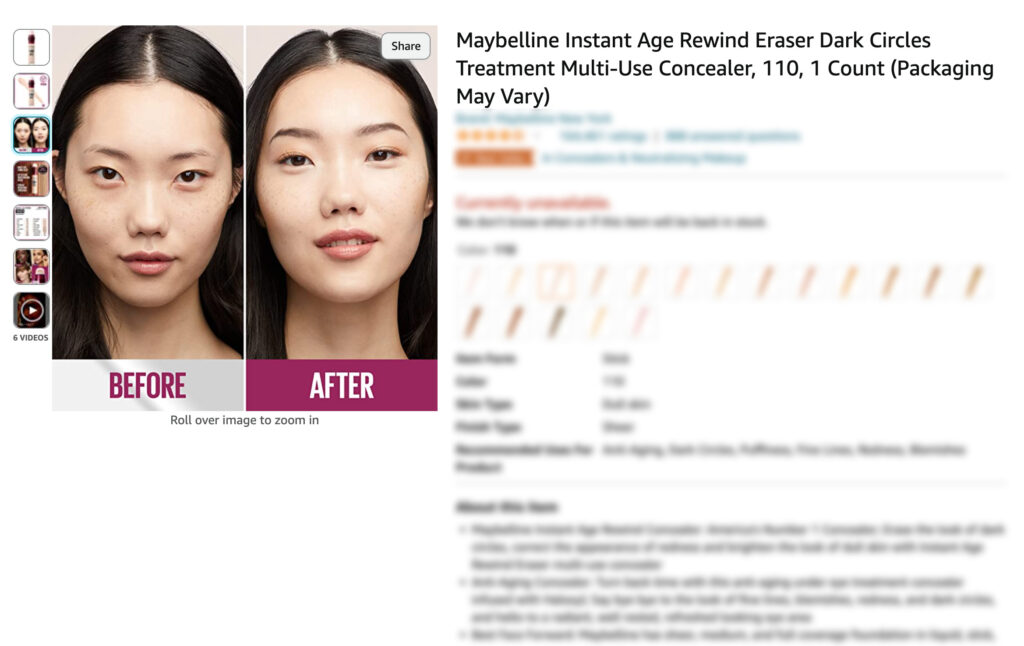 Before/After images immediately demonstrate the efficiency of your product. Other industries can use this photo type successfully, even though it is typically only used in the beauty industry.
Before and after pictures are comparable to "product in use" pictures in many ways. The product size is less prominent in these photos, in any case.
How To Use Amazon Seller Central To Upload Photos
Under the "Add a Product" tab in Seller Central, you can add photos to new products. After clicking here, you'll discover an offer tab that will direct you to the "Photos of Your Item" link.
You can then decide whether to upload pictures from an existing folder. The best method for organizing your images is to have a dedicated folder among numerous subfolders. This saves you from having to sort through many folders to find what you need.
Select the "Product Detail Page" to add photos to an existing product. From there, you ought to see a link resembling the ones previously mentioned.
Additionally, you can upload using the listing loader, which lets you upload several pieces of inventory at once. The listing loader is only for uploading new products.
Discover how reimbursements can add revenue back into your business with our easy-to-follow guide.
How Many Product Images Can You Add on Amazon?
You can add up to 9 images to each listing. The first is your primary product image, and the other eight are supporting images. The videos you choose to upload will be included in your graphic count. No matter how many different kinds of images you decide to share, this holds true.
What Are Amazon Product Images Requirements?
When selecting product images, your priority should be relevance. Your photo must accurately represent the product and title to meet Amazon's product image requirements.
The rest of these tips won't matter without making your image relevant. This starts with meeting Amazon's standards for product images.
Your images must be in the following file formats: JPEG, TIFF, and GIF. JPEG is the preferred file type, and animated GIFs are not allowed.
Your image needs to be between 1600-10000 pixels.
The product must at least fill 85% of the image capacity.
Adult content is definitely not allowed (nudity or anything sexual)
The products must not be freestanding if you sell underwear, swimwear, or other skin-tight clothing.
No kid models in all situations
None of your photos can reference Amazon, its trademarks, or variations.
No Amazon badges should be on your photos (like Amazon's Choice, Best Seller, Climate Pledge-Friendly, etc.)
Amazon Primary Product Image Requirements
The background must be white (255,255,255), RGB.
It should be a genuine photo, not a graphic or illustration.
The image should not display accessories that are not included in your product
The primary image must be from just one perspective (no multiple angles)
The primary photo must be complete. Cropped images are rejected.
There should be no models in the primary image unless you sell clothing.
Images of shoes must be facing left at a 45-degree angle
Clothing images must not display any part of a mannequin
Regulations For Image Dimensions
Dimensions play an important role in Amazon product photography. However, Amazon's minimum dimensions are a little short of what you should aim for.
Amazon requires images to be at least 500px in size. Larger is almost always preferable. The image length limits for qualifying for zoom are shown above. Pixels should ideally range between 1000 and 1600 px. The best image size for solid detail is around 2000×2000 px.
You need to make backups of these images on your hard drive. Avoid making the pixels become too large. Images with higher resolution are almost always of higher quality. However, most people viewing your products are most likely doing so on mobile devices.
Primary photos should be of exceptional quality. However, secondary photos do not meet the exact specifications. Make sure you have enough space to save everything you require. Images are, of course, an important part of creating Amazon A+ content.
Conclusion
Product images are one of the most important aspects of online selling and can be the difference between a sale and a no sale. More than 75% of customers report that product images significantly impact their purchase decisions.
Product Images can help build trust with potential customers, which is especially important for products that are not well-known or unavailable in brick-and-mortar stores. If you want to increase your conversion rates, make sure to invest in high-quality product images!
Have you been successful at fulfilling Amazon Product Images requirements? If not, contact us for a Free Consultation – we'd love to help you start using them today!