As an Amazon seller, you know that having a strong social media presence is important. But what are the best ways to use social media to help promote your products? This blog post will give you some tips on how to take advantage of social media as an Amazon marketing tool. So read on to learn more!
How Social Media Can Help You as an Amazon Seller
Amazon is the juggernaut of online retail, and if you want to make a success of selling on the platform, you need to be savvy about Amazon marketing. One way to get ahead of the competition is to use social media to your advantage along with ongoing competitive analysis.
By creating a strong presence on platforms like Twitter, Youtube, LinkedIn, TikTok, Instagram, and Facebook, you can reach a wide audience of potential customers, build awareness and create a distinct identity for your brand. You can also use social media to drive traffic to your Amazon listing and boost your sales. So if you're not already using social media to market your Amazon business, now is the time to start. Then, with a little effort, you can take your Amazon marketing results to the next level.
How to Use Social Media to Drive Traffic to Your Amazon Listings
If you're like most Amazon business owners, you understand the importance of social media. Not only is it a great way to connect with potential customers, but it can also be a powerful tool for driving traffic to your listings. The key is to use social media strategically and take advantage of each platform's unique features.
For example, on Facebook, you can create a Business Page and share your Amazon listings. Be sure to include compelling images and descriptions and to post regularly. You can also join relevant Facebook groups and share your listings with members.
On Twitter, you can share links to your listings and use Amazon FBA hashtags to reach a broader audience. Pinterest is another great platform for Amazon sellers, as its visual nature is perfect for highlighting product images. Finally, you can create Boards devoted to your Amazon products, and be sure to include links back to your listings in the descriptions.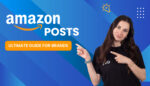 Amazon Posts: Ultimate Guide For Brands+7 Inspiring Examples
Identify the Best Social Media Platforms for Your Business
With Amazon, it's all about getting your product in front of as many eyeballs as possible – and social media is a key part of that. But with so many different social media channels out there, which ones are the best for Amazon businesses?
The answer, unfortunately, isn't black and white. It really depends on your Amazon business, products, and target audience. However, a few general tips can help you narrow down the field.
First, take a look at what Amazon businesses similar to yours are doing. See which platforms they're using, what type of content, and what tone of voice they are using. Don't forget to analyze their top-performing posts fully.
Second, consider which social media networks your target customers are using most frequently. And finally, don't spread yourself too thin – focus on one or two platforms that you can really commit to, which will give you the best ROI. With these guidelines in mind, you should be able to identify the best social media platforms for your Amazon business.
In the following, we'll give you a quick overview of each popular platform of social media marketing for Amazon sellers:
Facebook
Amazon sellers can use Facebook to promote their business in a number of ways. For example, they can create a Facebook page for their business and share products and services for free. Additionally, Amazon sellers can join relevant Facebook groups and participate in the discussion. This is a great way to build relationships with potential customers, find their needs and pain points, and get exposure for your business.
Furthermore, Amazon sellers can use Facebook ads to reach a wider audience. By targeting potential customers with relevant ads, you can increase the chances of making a sale. Finally, Amazon sellers can use social media influencers to promote their businesses. By partnering with an influencer who has a large following on Facebook, you can reach a larger audience and generate more interest in your Amazon business.
LinkedIn
Amazon sellers can use LinkedIn to promote their business in a number of ways. One is to create a company page that provides an overview of the business and its products or services. This can help to attract new customers and build trust with potential clients. LinkedIn can also be used to connect with other Amazon sellers, professionals, vendors, and amazon advertising agencies in related fields. These connections can provide valuable insights, feedback, and opportunities for collaboration. Additionally, Amazon sellers can share blog posts, articles, and other content on LinkedIn to generate interest and drive traffic to their website or online store. 
As your business grows, you'll need to hire more people as well. Linkedin is ideal for finding top-notch talents and hiring them for your business. for your business. By utilizing LinkedIn's vast network of users, Amazon sellers can significantly increase their visibility and reach potential customers from all over the world.
Instagram
Amazon sellers can use Instagram to grow their business in a number of ways:
They can use the platform to connect with potential customers and build relationships in a very casual and intimate way. Amazon sellers can create a strong first impression and get potential customers interested in their products by sharing high-quality images and engaging content.
Amazon sellers can use Instagram to drive traffic to their product listings. By including links to their listings in their posts, Amazon sellers can make it easy for potential customers to find and purchase their products.
Amazon sellers can use Instagram to stay top of mind with potential customers.
Amazon sellers can keep their brand at the forefront of potential customers' minds by regularly sharing new and exciting content. That makes them more likely to purchase from the Amazon seller when they are ready to buy.
Twitter
Amazon sellers can use Twitter to grow their business in a number of ways:
They can use Twitter to connect with potential customers who may be interested in their products. By tweeting about their products and including relevant hashtags, Amazon sellers can reach a wider audience and generate new leads.
Amazon sellers can use Twitter to build relationships with other businesses in their industry. They can create opportunities for joint ventures and collaborative marketing campaigns by connecting with other businesses.
Sellers can use Twitter to stay up-to-date on industry news and trends.
You can find out about the latest trends to keep your business and your Amazon marketing approach up-to-date.
By following industry leaders and influencers, Amazon sellers can quickly adapt to changes in the marketplace and continue to grow their business.
Pinterest
Pinterest is a powerful tool that can help businesses reach a wider audience and make more sales. However, Amazon is not the only game in town. Pinterest can also be a powerful platform for promoting and selling products. Here are some tips for using Pinterest to grow your Amazon business:
1. Use high-quality images. The photos that you use on Pinterest should be clear and professional-looking. This will help to create a strong first impression and encourage users to click through to your Amazon listings.
2. Create attractive boards. Organize your pins into different boards that focus on specific topics or products. This will help potential customers to find the information they are looking for more easily.
3. Use keywords wisely. When creating descriptions for your pins, be sure to include relevant keywords that potential customers might use when searching for products on Amazon.
4. Promote special offers. Be sure to promote any special offers or discount codes available for Amazon products. This will help to boost sales and encourage users to return to your Pinterest boards in the future.
Read More: 10 Quick & Highly Effective Tips to Supercharge Amazon Ads
Monitor and Analyze Your Social Media Performance
Amazon is a vast and ever-changing marketplace, making it essential for businesses to closely monitor their social media performance in order to develop the most effective strategy of social media marketing for Amazon sellers. There are a number of different factors to consider, such as the time of day that posts are made, the content of the posts, and the target audience.
By analyzing this data, businesses can gain valuable insights into what is working well and what needs to be improved. Additionally, it is important to keep up with the latest changes on Amazon in order to stay ahead of the competition. With so much at stake, it is clear that close monitoring of social media performance is essential for Amazon businesses.
Read More: 5 Tips to Win & Keep the Amazon Buy Box
FAQ | Amazon Social Marketing
Does Amazon do social media background checks?
No, Amazon does not check the social media background of third-party sellers. However, if you promote violent acts and drug sales on your branded accounts, you most probably will get suspended on Amazon as well.
How often does Amazon post on social media?
According to our data, Amazon shares 33 posts on Instagram, 28 on Twitter, and 22 on Facebook per month on average.
How do I share my Amazon wish list on social media?
To create a public wish list, simply go to Amazon and click on "Wish List" in the top menu bar. Then, in the "Your Wish Lists" section, click on "Public Wish Lists." From there, you can either create a new wish list or add items to an existing list.

To create a private wish list, go to Amazon.com and click on "Your Account" in the top menu bar. Then, under "Personalization,"
Conclusion
It's time to jump on the Amazon marketing bandwagon and start reaping the benefits. Of course, if you need a little help getting started, we're here to offer Free Consultation. This helps you get the best strategy for Amazon marketing to see better results than ever. Ready to take your business to the next level?

Get in touch with us today!