The Basic 4 Challenges of Multi-Marketplace Selling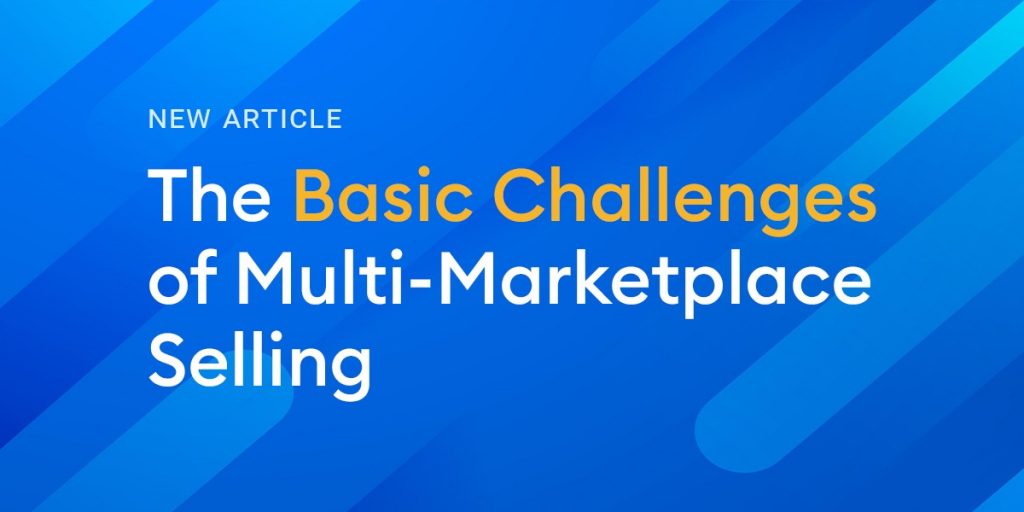 Today's sellers are constantly chasing more sales channels, luckily there are more an more marketplaces popping up around the world and there is an extensive set of channels that you can sell on multi-markets globally.
But it comes at a cost. Depending on how you do it it can be like adding a second business to the mix, requiring full attention, resources and marketing efforts to succeed. Unless you have eight arms that you can use simultaneously, you'll never be able to spin all these plates by using manual spreadsheets alone.
And yes, every experienced seller knows that they need multiple tools to run their business efficiently.
Here are some basic challenges that sellers often face in running their multi-marketplace operations and how a good multi-channel tool set can help:
1- Upload new listings simultaneously to all multi-market channels
The bigger your business is, the more listings you need to pay attention to. You will probably need to list your products across various marketplaces without losing your mind manually creating and updating listings.
You need to work smarter, not harder. Using the right feed integration software empowers you to manage the entire sales process in just a few clicks. You can expand your reach without going through the associated administrative pains.
Ensure the tool you are using allows you to programmatically update product listings based on changes made in a central source of truth. A feature a lot of our sellers look out for is the ability to support unique content fields for each marketplace channel as often the content requirements vary significantly. In most advanced sellers situations, reusing the same content on multiple channels is a no-go.
2- Inventory management
One of the big challenges that even experienced sellers face when they start selling products on more channels is keeping up with inventory. Making the wrong choices when it comes to how you manage inventory can be incredibly costly.
Even though it can be advantageous to keep a large supply of inventory at hand, especially once you approach a busy season, it can be expensive and you may face the possibility of having too much dead stock at hand.
Using offline spreadsheets to track/manage your inventory is a huge efficiency 'no, no". You will need the right software/tool to give you automatic real-time inventory updates across multiple channels, ideally decrementing inventory levels on all channels to reduce the risk of over selling.
3- Uncover sales trends
Every experienced seller is aware that running a business is filled with highs and lows — but a good seller knows how to take advantage of the highs to grow as efficiently as possible. Sometimes you might see that a specific item is quickly sold out within a certain week, but not for the week after. Or maybe some stores are selling more items compared to others.
Analysing and monitoring sales metrics regularly will help you prepare for those highs and lows and is an effective way to understand how your sales behave but also to understand where you can improve. MerchantSpring Marketplace Manager allows you to get a consolidated view of all your sales, seller health, inventory and service performance metrics across all your stores globally, keeping you up to date with exactly what is happening in real-time.
4- Ensure customer satisfaction and positive reviews
These days most shoppers will start their product search journey on a marketplace before deciding to buy. What's important here is that the starting point marketplace varies from country to country. In the US most shoppers start on Amazon, whilst in Poland for example everyone starts on Allegro.
What all these marketplaces have in common is a review framework which helps the customer make an informed buying decision. It is well known that on any marketplace the more positive reviews a product has the more likely the buyer will buy, simple right?
Having as many positive reviews as possible will drive conversion. This is why sellers will need the right tool to automate and scale how they ask customers for reviews. Luckily (another shameless plug here) MerchantSpring has an automated review solicitation function which enables sellers to ask buyers for reviews automatically through triggering the official Amazon review request. Put simply, you need reviews and you need to find a way to ask for more reviews while you sleep!
Conclusion
Selling on several marketplaces is quite the challenge, even for experienced sellers because each channel has its peculiarities. But this, however, should not stop you from expanding your businesses. What you need is the right tools to help you run your multi-channel business. It is important to first identify what would be the biggest obstacles that your business will face and find the right marketplace management tool to solve it.
MerchantSpring Marketplace Manager is your answer to all those challenges associated with multi-marketplace performance and operations. It is a multi-marketplace, multi-country platform tool that allows you to quickly assess performance across all your marketplaces. Connect in minutes. Stop wasting time on endless spreadsheets and manually comparing markets, countries, stores and platforms, start your 7-day free trial today (no Credit Card required).