Private Label Nightmare 2021- FBA Storage Limits and IPI Score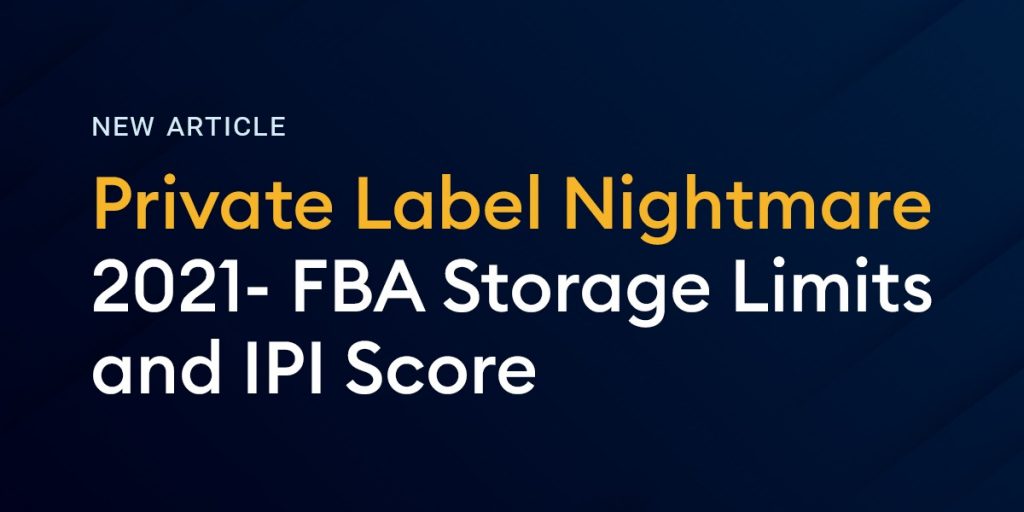 Many fast-growing Private Labels and FBA resellers find themselves hitting Inventory Storage Limit on Amazon. Maintaining a high IPI Score and healthy inventory ensures that your Amazon business can keep on thriving.
As Amazon FBA is gaining popularity among eCommercers, the retail giant has come up with Inventory Storage Limits to ensure better management. Let's take a look at what is Inventory Performance Index (IPI) Score on Amazon and how it affects the sellers subjected to these limits.
Amazon FBA Keeps on Growing
Amazon FBA is a fantastic program! If sellers enroll in the FBA Program, they can take advantage of Amazon's advanced inventory and shipment services. Over the last few years, FBA lifted the barrier to entering the eCommerce business. In fact, sellers can even ship directly from the manufacturer or from their factories if they are the producer, to the Amazon fulfillment center. Also, sellers can enjoy selling to Amazon's hungry prime customers.
Amazon invested heavily in fulfillment centers and continue to invest. During 2020, Amazon's workforce increased more than 50% and added hundreds of distribution centers primarily in the US. With 180 million square feet of distribution facilities in the country, Amazon is far ahead of Walmart, with 140 million square feet, and Target, with less than 60 million square feet.
Introduction of Inventory Storage Limits and IPI
Is the expansion enough? Not really! Amazon FBA Sellers and specifically the Private Label sellers continue to grow, and Storage hit the limits during Q4 of 2020. To better manage storage center fulfillment space, Amazon introduced Inventory Storage limits. The good news is, not every seller is subject to Storage Limits. If you are a new seller and you are active for less than half a year, you are not subject to storage limits. Most sellers are subject to storage limits, and the limit depends on the Inventory Performance Index (IPI). As far as we know, IPI is only applicable to Amazon US Market as of now.
What is IPI Score on Amazon?
Think about the storage limit as your Credit Card limit and IPI as the Credit Score. Your current IPI as well as your IPI history. Amazon needs to set a score and limit for you. If fulfillment center capacity is limited, regardless of your score, you may still have storage limits.
Storage limits are applicable for six storage types: standard-size, oversize, apparel, footwear, flammable, and aerosol. You may have different limits or no limits for particular storage types. Limitations are one side of the story; the other side is the danger of being out of stock. Sellers need to have enough units based on sales velocity to ensure to reduce the risk of stock-outs.
Focus on Inventory Health
Inventory health relates to either having too few or too many units. Having too few units of inventory results in out-of-stock items and lost sales. On the other hand, having too many units of inventory results in excess holding and storage costs.
Amazon's inventory performance index is a number between 0-1000 used to measure inventory health – capturing the low inventory and excess inventory levels for your SKUs. Every quarter, Amazon carries out two IPI checks. Sellers who fail both of these tests, get limitations for the next quarter. If this is the case, Amazon charges you an Inventory storage overage fee. This monthly fee is $10 per cubic foot and measured by the daily average volume for the space that exceeds the storage limits. Rules changed during Winter Quarter, and due to growing demand, Amazon will further limit storage.
Here is how IPI looks like on Amazon Seller Central:
Maintaining High IPI Score
Sellers need to make sure the IPI Score is high, and according to Amazon, the top influencing factors are:
Excess inventory: Sell excess inventory faster to avoid costs.
Sell-through: Units sold in the last 90 days/average available units over the previous 90 days; increasing sales velocity will help increasing sell-through.
Stranded Inventory: Ensure there is an offer available for the inventory you keep.
In-Stock Inventory: Ensure you don't go out of stock. Whatever it takes.
How to Optimize IPI Score?
In 2021 more limitations coming to the storage, a dynamic pricing strategy is required for all Amazon FBA Sellers. Specifically, Private Labels can not handle a healthy IPI either by heavy manual work or by using a dynamic pricing strategy.
Eva Platform fixes the challenge of stock-out, storage limits, extra charges once for all. Here are the unique strategies on Eva Platform powered by Artificial Intelligence:
Excess inventory: Eva provides you a liquidation function to ensure the excess inventory is sold with maximum revenue. In case the Inventory is not selling, Eva starts to warn the user after 30 days!
Sell Through: Eva always checks the last 30 days, ensures the optimum profits and best Sales Velocity, keeping Sell Through at high levels.
Avoiding Stock Outs: Eva dynamically updates the price to ensure sales velocity is slowly decreasing to avoid stock out and warns the seller for replenishment. Eva starts increasing the sales velocity as soon as there is any shipment in inbound status.
Stranded Inventory: Eva lists all inactive inventory and the seller can activate them easily. In the case of High Low Pricing errors, Eva automatically reactivates the listing.
Final Thoughts
Bottom line, 2021 for Private Labels will be another great year, but more limitations are coming to the Amazon FBA. Eva dynamic pricing ensures your IPI Score is healthy which boosts your sales and reduces the inventory costs.
You can sign up Eva and start your 15-day free trial now
Was this article helpful?