Amazon Brand Gating-Protect Your Brand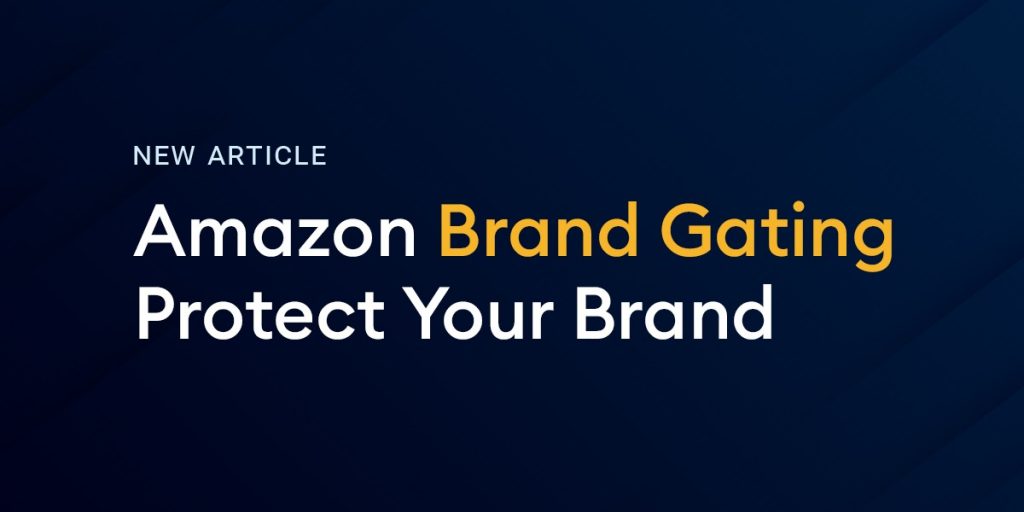 Amazon Brand Gating is a program that allows businesses to protect their products (or their whole brand) and to prevent counterfeit products from being sold by third-party sellers.
The approval procedure varies for every account, and it might take a few days to nine months.
For some manufacturers/vendors, Amazon automatically applies brand gating (typically large, established brands). But it does not mean that other small brands can't apply for Amazon Brand Gating.
Customers can feel confident buying items on Amazon when unlicensed vendors and counterfeit products have been eliminated. This is what brand gating is all about!
What is Brand Gating and How Does It Work?
Brand gating helps brands and manufacturers keep track of who uses their ASINs (Amazon Standard Identification Numbers) and prevents illegal sellers from hijacking legitimate listings and lowering prices.
After a brand is accepted into the brand gating process, resellers must provide Amazon with information about their previous performance and meet certain qualification requirements, such as providing invoices for relevant product purchases made in the previous 90 days and obtaining and submitting written permission from the brand or manufacturer to sell the products on Amazon.
In addition, the reseller must pay Amazon an upfront charge of up to $1500 per brand. Sellers that breach the gating rules risk losing their selling privileges, having payments withheld by Amazon, or having any merchandise in Amazon's custody destroyed.
However, it's vital to remember that, aside from these two issues—authorization to resale the products and checking the validity of any goods—Amazon is likely to remain impartial in any future manufacturer/reseller disagreements.
Furthermore, because of the inherent constraints on resale that this procedure imposes, Amazon brand gating is likely best suited to those whose products are most frequently counterfeited, such as luxury garments and accessories and consumer electronics.
How to Sign Up for Amazon Brand Gating
1. Become a member of Amazon Brand Registry.
By joining Amazon's Brand Registry, you're taking proactive steps to improve your brand's image on the site, giving Amazon the information it needs to detect and report counterfeiting. If you are not enrolled in the Brand Registry, Amazon will not consider you for brand gating. You'll need an active registered trademark in each nation you want to enroll in to become brand-registered, and registering with the USPTO will show that you're serious about compliance.
2. Give Amazon the ASINs that will be gated.
Make a list of the ASINs you'd want to submit for Amazon brand gating in a prioritized order. Contact your current Amazon support contacts with your list, focusing on the items that are the most valuable, profitable, or have had counterfeit activity found in the past.
3. Prove how you've reduced the risk of counterfeiting.
Have a thorough list of the activities you've taken to aggressively combat rogue sellers, since Amazon may give those who are actively dealing with counterfeiters priority. While keeping it clear and concise, provide them with your seller ID and any other pertinent information.
If you're selling on Amazon's third-party marketplace, you may get a notice saying you don't have brand authorization and need to get it before proceeding. Amazon may take up to seven days to share their decision once you've completed the approval procedure for each brand that requires gating. After that, the brand gating might take four to five weeks to install. If you click on the "Sell on Amazon" button underneath the Buy Box and it says "You need the approval to sell in this brand," your ASIN has been gated.
CONCLUSION
With Amazon brand gating, your company can put a stop to counterfeit sellers on Amazon and the harm they cause, whether it's a drop in sales, a negative impact on your brand's reputation, or a decrease in the value of your items.
Was this article helpful?