Finding the fastest, most convenient, and most cost-efficient fulfillment is the main concern for any Amazon business. You'd better know that there is no 100% right or wrong answer; it all depends on your business strategy and goals, and we help you figure out the answer covering each aspect of these methods.
It's not all about FBA or FBM, we'll give you a little brief about lesser-known Amazon fulfillment methods: SFP and MCF. So read on and learn more about both models and find out which one is the best fulfillment solution for you. ✅
What is Fulfillment by Amazon (FBA)?
Fulfillment by Amazon (FBA) is a fulfillment service offered by Amazon. The superhero of the retail industry stores inventory for online retailers, and prepares, packs, and ships the purchased orders to their customers.
Amazon FBA works in a relatively simple way. Amazon sellers first ship their products to an Amazon fulfillment center. And when a customer submits an order, Amazon selects the item from its FBA inventory, prepares, and packages the item, then delivers it to the customer's address.
While the FBA program manages the logistics of handling and shipping the order, responsibility for other critical aspects of the sales process rests with the Amazon seller. For example, sellers decide which products to sell and how to market them effectively. They should also ensure that the items are prepared and packed correctly before sending them to the Amazon fulfillment center. They must also keep track of inventory to ensure the stock is replenished before it runs out.
What is Fulfillment by Merchant (FBM)?
Amazon Fulfilled by Merchant (FBM) is a method of fulfillment in which an Amazon seller is responsible for fulfilling the products. Sellers can directly manage Amazon FBM through the vendor or in partnership with a 3PL logistics service provider.
With Amazon FBM fulfillment, purchase orders don't need Amazon to handle fulfillment. The Amazon seller is responsible for inventory storage, returns, order fulfillment, and customer service.
Amazon FBM works as it sounds: the merchant fulfills orders when their products, either by self-fulfillment or through 3PL.
Amazon FBM is generally the only fulfillment method available to new merchants selling on Amazon. FBAs require a few approvals, and inventory turnover to be performed, and take time to set up. As a result, smaller sellers can often fulfill orders themselves. In comparison, larger sellers are more likely to use 3PL logistics services to fulfill orders.
Amazon FBA vs FBM


Are you looking for a fulfillment process that makes the customer satisfied and brings you more profit and sales? If so, you need to decide whether to use Amazon FBA or FBM. Here's a look at the pros and cons of each option so you can make the best decision for your business.
''In 99% of situations, Amazon FBA is the better solution for brands selling on Amazon in terms of customer satisfaction, cost efficiency, and customer service," says John MacAfee, the CEO of Amify.
But that doesn't mean you should cross out FBM. This fulfillment method has also demonstrated satisfying results as well: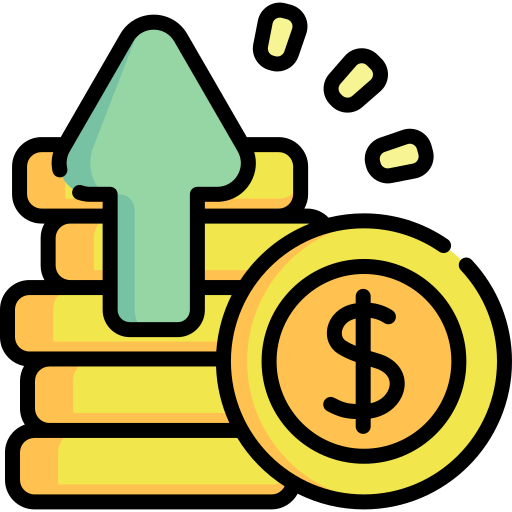 33% of FBM sellers on Amazon earn more than $25,000 per month, while Amazon FBA sellers make over 26%.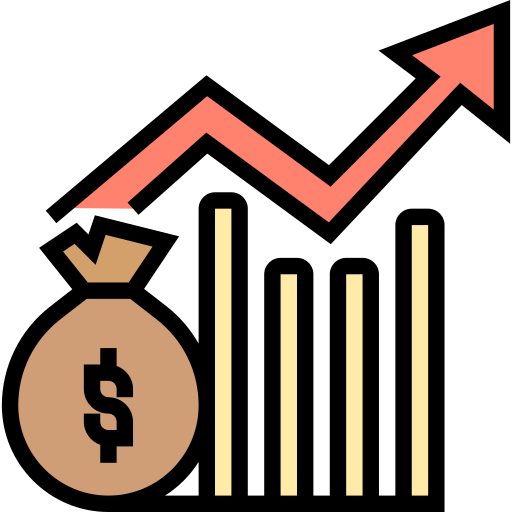 37% of Amazon FBA sellers have a profit margin of more than 20%, and FBM sellers have 32%.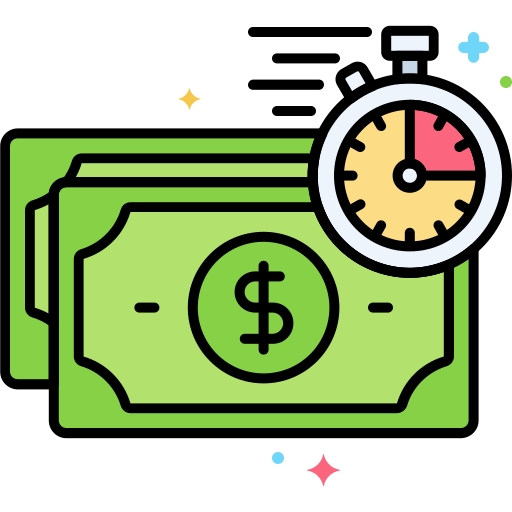 It took less than six weeks for 51% of FBM sellers to start Amazon versus 34% of FBM sellers.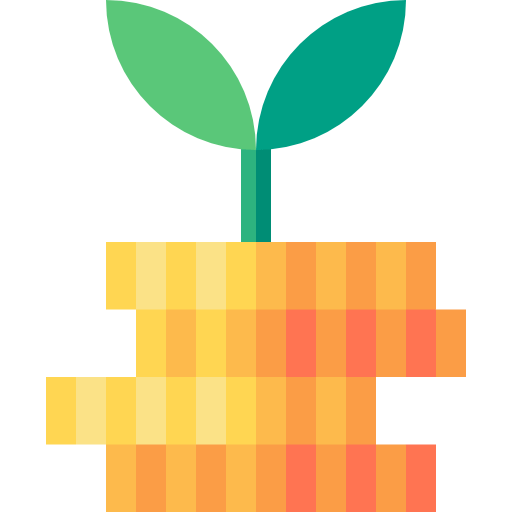 28% of FBM sellers made a profit in less than three months, compared to 20% of Amazon FBA sellers.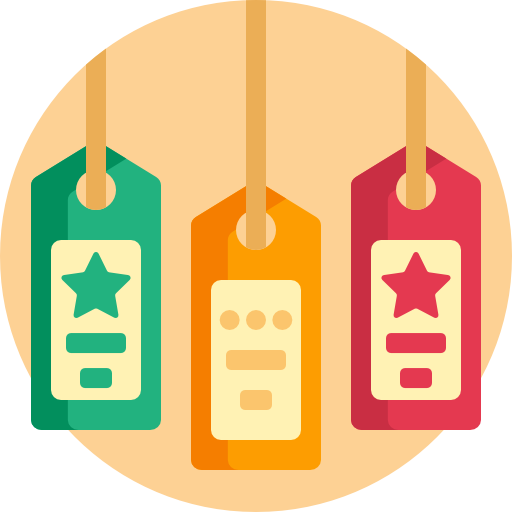 67% of FBA vendors use the Amazon FBA private label business model, compared to 65% of FBM vendors.
Pros of Amazon FBA
Like many other Amazon sellers, if you're wondering if Amazon FBA is the right solution for you, you'll want to list the pros and cons. After thoroughly reviewing the platform and its offerings, here are our best pros and cons to offer for your consideration about Amazon FBA.
Winning the Buy Box:
Fulfillment is one of Amazon's most essential variables when deciding which seller wins the Amazon Buy Box. The faster, cheaper, and more convenient your shipping and delivery are for the customer – the better.
Amazon considers FBA sellers to have essentially perfect metrics in terms of fulfillment quality. That means using the Amazon FBA program can significantly increase your odds of winning the Buy Box when competing against FBM sellers.
Fast Delivery:
Products with the Amazon FBA attribute automatically receive a Prime badge and are eligible for Prime Free Shipping which takes less than 2 days.
Effortless Shipping & Logistics:
Simply put, Amazon picks, packs, and ships your products to the customers on your behalf. You just need to monitor your product listings from your Seller Central account to make sure the inventory is full and no product has been lost during the process. With Amazon FBA, you'll get a massive load of work out of your hair.
Returns Management:
In addition to sales, the Amazon FBA also handles returns and refunds as they are a part of the fulfillment process, taking one more laborious task off your plate.
Customer Service Management:
Amazon provides its own customer service for FBA sellers. That's one of the main reasons that the majority of customers prefer products with fulfillment by Amazon.
Omnichannel Fulfillment:
Amazon FBA allows you to sell on its eCommerce platform, and have access to new multi-channel fulfillment solutions.
Amazon SEO:
Although this hasn't been publicly confirmed, it's generally agreed that Amazon FBA is a ranking factor that plays into the search algorithm. In search, a product with an Amazon FBA attribute is likely to have a higher ranking over FBM peers.
Save Time:
Managing a well-functioning shipping and warehousing operation is complicated and time-consuming. While Amazon already has a state-of-the-art fulfillment infrastructure set up to process and ship your orders on time and focus on better ways to source, develop great products, market them and scale your business.
Eva also offers the highest standard 3PL logistics to Amazon FBA sellers to help them with warehouse space shortage, returns management, prep & pack process and so much more.
To find out more about this service, please visit here or schedule a call with our Amazon experts running this service, anytime you desire.
Cons of Amazon FBA

It is essential to look at possible reasons why Amazon FBA may not be the right solution for your needs. Here are some factors to consider.
Amazon FBA Cost:
Money is everything for those trying to get started. Amazon FBA is a convenient service but might be costly for starter businesses.
More returns:
In many cases, sellers have noticed a rise in the number of returned items. That is most probably associated with Amazon's open-arms return policy. The return processing fees would also be an extra burden on the shoulders of your Amazon business.
Long-term storage charges:
Amazon doesn't like sitting on the FBA inventory. Therefore, long-term storage fees are considerably more expensive than regular FBA fees.
Product Preparation Requirements:
There's a strict list of requirements for products arriving at the warehouse to satisfy the standards of the Amazon FBA program. Some details can be tricky and quite time-consuming.
Sales Tax:
The tax on sales is related to the state or country your Amazon business is operating in. If you're active in one state and its items are in a different state, you may get confused about which tax rate to use.
Which One Is the Right Decision for Your Amazon Business?
After covering all the advantages and disadvantages of both fulfillment methods, now it's time to figure out the answer to the first question of this blog: Which one works better for your Amazon business?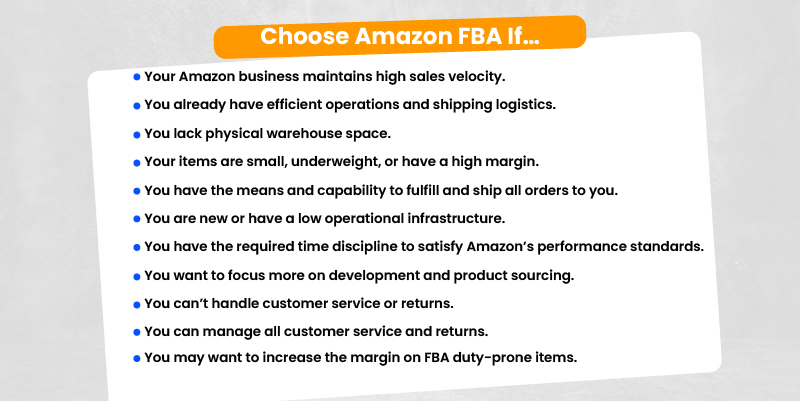 As you've most probably understood so far, Amazon FBA works really well for all businesses of all sizes, especially mid-size ones. On the other hand, FBM is a cost-efficient alternative to large-size businesses that are capable of providing high-quality logistics to compete with Amazon.
How to Go From FBA to FBM on Amazon?
First, you'll need to create a new listing for your product on Amazon. Make sure to include all the relevant information about your product, as well as your contact information. You'll also want to update your product photos and description to reflect the fact that you're now fulfilling orders yourself.
Next, you'll need to set up your own shipping process. This means finding a reliable shipping provider and setting up a way to track your orders. You'll also need to create return labels and customer service policies.
Last but not least, you'll need to adjust your pricing. FBM sellers typically charge a bit more for their products than FBA sellers, so you'll need to increase your prices accordingly. With all that taken care of, you'll be ready to make the switch from Amazon FBA to FBM!
Note: Unless you ask to have them transported back to you, whatever inventory you hold for these products in Amazon's fulfillment centers will stay there. Therefore, you must ask Amazon to send your things to you as well.
See Also: Best Way to List the Same Item on Amazon FBM and FBA
Does the type of fulfillment affect your Amazon Advertising?

Not directly, but yes. The type of fulfillment you choose for the products you're selling on Amazon affects the results of your Amazon advertising campaign. In action, many Amazon experts have noticed a drop in the conversion rate when the products are offered with FBM fulfillment compared to the products with the same ASIN but with the "fulfillment by Amazon" attribute.
So an efficient strategy for advertising on Amazon would be separating your FBM and FBA SKUs if your products have multiple fulfillment options and running ads for them separately with different budgets.
The good news is that Eva also helps you develop the best-converting strategy for Amazon advertising. We'll provide you with a Free Amazon PPC audit with expert tips to improve the conversion rate. Get yours for free, now!
Additional Fulfillment Types: Amazon SFP and Amazon MCF
What is Seller Fulfilled Prime (SFP)?

Amazon SFP (Seller Fulfilled Prime) is a method of Amazon fulfillment that allows Prime sellers to fulfill their own orders through their internal fulfillment operations or with a 3PL logistics partner or any other outsourced fulfillment solution.
Amazon SFP fulfillment was aimed to help make room for their new Amazon Private Label brands. Sellers need to maintain Prime service levels (above all, the free 2-day delivery), which Amazon closely monitors. SFP sellers will drop out of this program if they can't manage to deliver either 99% on-time fulfillment or 97% on-time fulfillment.
Amazon SFP enables sellers to take advantage of the 30% growth in sales associated with the Prime badge without sacrificing visibility into their inventory levels. As a result, Amazon benefits from lower fulfillment costs and additional warehouse space but maintains a diverse SKU profile in the Prime catalog.
What Are the Benefits of Amazon SFP?
Statistics have revealed that Prime members spend around twice as much on Amazon compared to non-Prime members. Amazon SFP gives sellers an excellent opportunity to benefit from the added visibility. Amazon SFP increases the sales that ultimately come with the Prime badge without dealing with the costs and space limitations of the Amazon fulfillment center.


What is Amazon Multi-Channel Fulfillment (MCF)?
Amazon Multi-Channel Fulfillment is a method of fulfillment that uses Amazon's warehouse to store products and fulfill orders from Amazon and the brand's websites. The multi-channel fulfillment is a subset of the Amazon FBA service.
Amazon's Multi-Channel Fulfillment (MCF) program is one of the many fulfillment options Amazon offers to sellers. By storing your inventory in Amazon's warehouse, they will handle your brand fulfillment across select channels.
Unlike Amazon FBA, where only Prime orders are fulfilled from Amazon's marketplace, multi-channel fulfillment uses a combination of shipping speeds, not just the famous 2-day shipping.
It's worth noting that Eva also provides the best quality 3PL logistics service to all eCommerce stores, especially Amazon sellers. Our service is ideally integrated with our AI-powered all-in-one solution, including Amazon repricer, inventory management, returns management, reimbursement service, etc.
Our 3PL warehouses are run by the best-qualified Amazon experts and are located close to Amazon fulfillment centers, significantly reducing shipping costs.
To find out more about our 3PL fulfillment service, you're more than welcome to contact us to set up a quick face-to-face conversation anytime you want!
What Are the Main Differences between Amazon FBA and MCF?
With Amazon FBA, sellers send their inventory from the Amazon fulfillment center that is the closest to the customer. Amazon handles everything and ships the product in an Amazon-branded box when the order arrives.
Items with the Amazon FBA attribute are eligible for free standard shipping and free two-day shipping for Prime customers. Since Amazon can guarantee the shipping experience, these usually qualify for Prime as well. Orders with MCF fulfillment are also covered by Amazon's Customer Support and Return Center.
See Also: What is the Best Amazon Shipping Method?
Conclusion
In the following, we have brought a quick review of Amazon FBA vs FBM to help you make the final decision on which type of fulfillment to choose.
The honest answer to that decision depends on a number of factors, such as the size and type of your inventory, the shipping arrangements you have in place, and your overall business strategy. Eva can help with all of that! With our AI-powered Amazon repricer, you can quickly compare your prices to those of other sellers on Amazon and adjust them accordingly. You'll also have the option to just compete with sellers of the same fulfillment type, inventory management, reimbursement service, and so much more!
To help you find out how Eva one of the best amazon advertising agencies out there, can set your business success on autopilot, we offer a 15-day free trial, so you can try Eva before you subscribe. So sign up today and see how much easier selling on Amazon can be! Eva is a store management service expert who can also serve as your Amazon virtual assistant, offering perfect solutions for your business's growth.