6 Secrets to Amazon FBA Success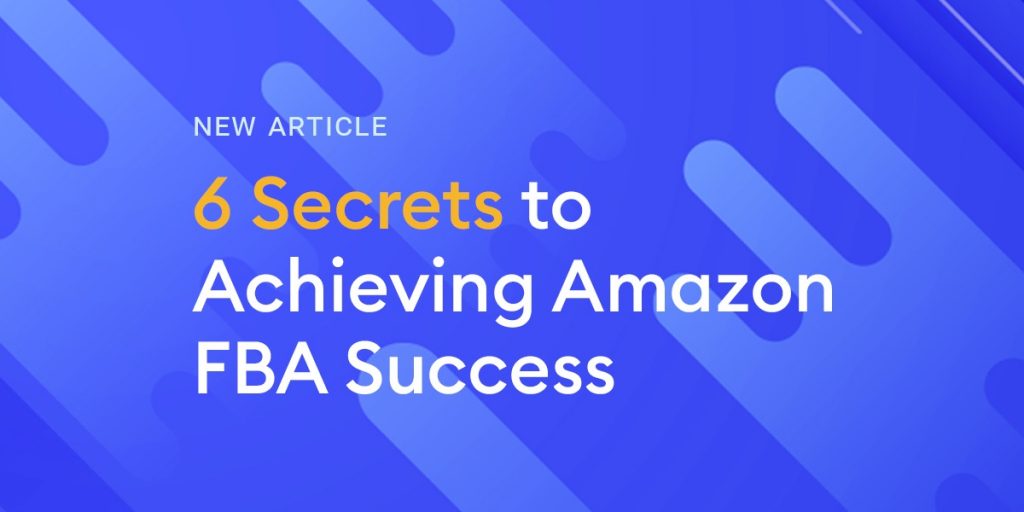 Who doesn't want to be successful? We all do! The current boom in online retail brought about by the pandemic has presented a huge opportunity for Amazon FBA sellers to be more than just successful. That being said, there are around 2 million active sellers on Amazon. Are all of them able to achieve the heights of success they truly want to? No. But can they all? Yes, if they enact efficient, functional, and profitable operations.
If you are an Amazon FBA seller, you have the potential to become very wealthy, provided you know how to efficiently utilize the gold mine of resources you have at your disposal.
What is Fulfillment by Amazon?
Fulfillment by Amazon (FBA) is a service that takes the pressure of warehousing, picking, packing, storing, shipping, handling returns, and refunds off your shoulders because amazon does it all for you. You no longer have to worry about hiring additional staff, renting a warehouse, packing, and shipping products when setting up your store. 
Amazon will do all of this for you for an additional operational fee that you will pay monthly. The Fulfillment by Amazon feature also makes sure you have more free time on your hand, cuts operational costs by quite a significant amount, allows you to increase your profit margin, and also provides ease of scalability in case you want to expand your business.
Amazon FBA Sellers also get a few additional perks, such as access to 24/7 customer service, two-day express delivery, and excellent quality of service. According to Statista, 82% of buyers claim that shipping time plays an important role in their purchase decision.
Customers are more likely to purchase from a retailer that offers faster shipping and are even willing to pay a higher price for it. And if your customer is an Amazon Prime Member, they get guaranteed 2-day express shipping on all orders for free.
As soon as you opt for FBA, your customers automatically qualify for free shipping on orders over $25, which dramatically increases your sales. You are also less likely to receive poor customer feedback as long as your product is of good quality because Amazon is a major retail chain with a professional delivery and shipping system. 
When customers get their product on time, and that too free of cost if the order exceeds a certain amount, as well as free return and refund, they will definitely leave positive feedback – and remember feedback matters.
Amazon has the Buy Box feature, the algorithm for which is still quite complex to understand. However, the two factors that guarantee a buyer gets a Buy Box on their page are customer feedback/rating and product pricing.
We will discuss how you can keep competitive pricing with the help of the Amazon repricing tool by Eva later in the article. First, though, let us first pen down the 'secrets' to achieving success as an Amazon FBA seller, as things are definitely a little trickier than the easy breezy picture we have painted above. 
See Also: The 2022 Guide for Your Private Label on Amazon to Be Successful
Secrets to Success as an Amazon FBA Seller
Here, we mention what to do and what not to do in plain simple terms so you can enjoy all the benefits of being part of the FBA seller cohort.
1. Set the Right Starting Selling Price
If you've started selling a product, the chances are that you have already done all your market research and are aware of the potential the product holds. You may have seen some other sellers around you sell the same product and make a substantial amount of profit, motivating you to do the same.
Fast forward to a few weeks or a month. You have now set up your Amazon FBA seller account, you have a supplier, and you want to start selling the product. Now is the time you will decide your selling price. You may be tempted to start off at the same price as your competitors, but is that really smart?
Assess your situation and compare it to your competitors. They have a functional setup and a loyal customer base; even if it is small, they also have a good customer feedback on their panel. On the other hand, you only really have the product to sell, a setup that is still under trial even if you are using the FBA service. You have no customer feedback, effectively making you the new kid on the block. 
The new kid always has to run a few PR campaigns before they gain enough traction to make others want to be friends with them. If you want to become the top Amazon FBA seller, you will have to do the same. The best way to build PR is by offering your customers what your competitors are not. Usually, that is a lower price or an attractive package such as a "buy two and get one free offer."
We understand that you may not be able to offer complimentary items, especially if you start with your prices lower than your competitors. You don't really have to go all out with your offers either. The point we are trying to make is to price your products with a small profit margin after you consider all costs, including the FBA service fee. 
2. Calculate your Costs Properly!
While the Fulfillment by Amazon service helps you establish an efficient and functional setup, it also costs quite a bit. Instead of trying to calculate the total cost manually, you will incur it on every sale you make. You can just use the FBA calculator to make sure you get an estimate that's as accurate as possible. 
At this point, you may be considering skipping this part and just mentally calculating the amount you think you will incur, but we suggest you refrain from doing so if you want to earn a profit. You could end up underestimating your cost and pricing your product too low. This has two major drawbacks.
One is that customers are extremely wary of products that are too cheap, as they seem to be too good to be true. They will avoid purchasing from your store, assuming you are scamming them or that the product may not be of good quality. 
Second, you will earn a net loss after closing your account at the end of the month. Not many retailers have the budget or the margin to incur a loss, and that may very well mark the end of all business operations for you. Even if you do survive and hike up the prices, you will lose a substantial amount of sales as your customers will become wary of the sudden price hike. 
3. Sell in Bundles and Packages 
Now, while you may not be able to sell in bundles and packages initially, once you establish a loyal customer base, you definitely should. It helps provide your clients with a lot more value and may very well become the reason why they choose you over your competitors, and that should always be your goal.
Now, you will have to plan and strategize your bundles. For example, if you are selling computer accessories, you can slowly start by bundling a mouse and keyboard combo with a USB or an external storage device, or even a charging cable.
Here, you don't have to send these out for free. If you are bundling two products, such as a mouse and an external hard drive, you can sell one with the profit markup and one without. Doing so will ensure you cover costs but also provide the customer with added value as they get another item at discounted rates. You can even give your customers the option to choose which product they would like to bundle with their purchase and get it at cost price only.
You can also sell packages. Like instead of selling one T-shirt, you can create a package of three in one, all different colors, and reduce the cost of the package by $1 or $2 of what it would cost the customer to purchase them separately.
Your goal is to create value addition for your customers so they feel like they got a good deal when shopping from your store. They will leave good customer feedback and may even become loyal customers in the long run.
4. Find and Sell Products that Sell Well on Amazon
Amazon is truly the one-stop shop for all your needs. Whether you are looking for electronic items, household equipment, clothes, books, shoes, etc., you name it, you can find it on Amazon. However, not all products perform as well, as customers aren't particularly comfortable with purchasing all their products online.
Most people prefer to buy electronic items after physically inspecting them in stores. They also look for official resellers when buying products for the long run. For example, though you can find a suitable range of refrigerators on Amazon, how many people have you heard say they bought their refrigerator from Amazon? Probably not many. That is because such items are not mainly in demand on Amazon. 
You should only sell products that many customers feel comfortable buying from Amazon, such as clothes, books, accessories, and more. Make sure the product you choose is easy to pack, ship, and sell. Here, you will have to do your research to see what products are available to you and whether you will be able to sell them profitably or not.
5. Think Big and Focus on Scaling
If you are running an Amazon FBA seller account, you don't necessarily have to do it from home. Once you successfully set up a profitable business operational model, you can start scaling and expanding. You can even start selling private label products and set up your own online business with help from Amazon FBA. 
We are trying to say that you are only going to get as big as you dream, so dream big. Wish for your own office and a scalable business, plan and strategize each and every move of yours before you start selling so you don't find yourself managing a small online business from your home because Amazon FBA sellers have the potential to be so much more than that.
Use Winning Strategies There are certain tips and tricks you can use to gain a competitive edge even when selling with fulfillment by Amazon, and you will need to utilize them all. You need to understand that only using FBA does not guarantee success. Countless other FBA sellers are using more or less the same operational model as you. 
You need to get better customer ratings and more sales if you want to become one of the top sellers. If that is your goal, you will have to pay extra attention to your product pricing and even reprice them with market fluctuations. Doing so manually can be a nightmare for you and your business. Thus, you should look into Amazon seller repricing tools.
See Also: A Guide to Success to Selling Books on Amazon
Conclusion
Eva connects the most important aspects of your Amazon FBA business into a single intuitive dashboard. AI-Powered price management, reimbursements, and analytics. With Eva, you can focus on what's important: growing your business and enjoying your freedom.
Was this article helpful?