How to Sell Books on Amazon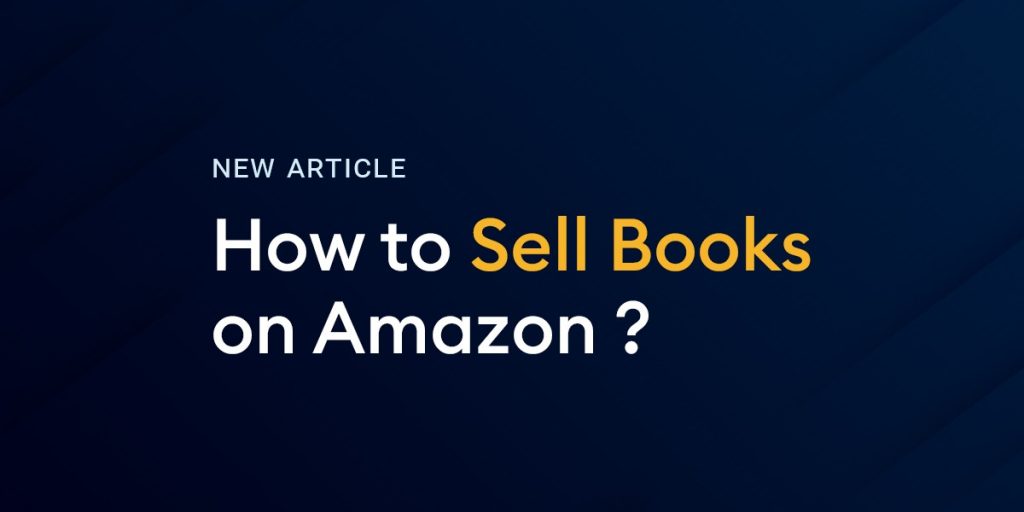 Selling books on Amazon is a brilliant idea to generate some extra money and even to get started with your Amazon business development but there is a question here: How to sell books on Amazon? 
First thing first, you need to understand how to sell on Amazon, as well as how to discover books to sell on Amazon and what kinds of books you should or should not sell.
Understand How to Sell Books on Amazon
As a first step, you need to figure out how to sell your books. According to this, you can create a strategy to find out how to discover books and what kinds of books you want to sell. Therefore, you need to decide how you will fulfill orders:
Do you want to take charge of your own inventory, packaging, and shipping processes? Alternatively, would you want Amazon to handle everything for you? 
In order to fulfill orders as an eCommerce seller on Amazon, you may choose between two options:
Merchant Fulfilled Network (MFN aka FBM) – You are in charge of your own inventory, packing, and shipping of books.
Fulfillment by Amazon (FBA) is a service that allows you to send books to an Amazon Fulfillment Center, and they take care of the rest. Storage, packaging, shipping, customer support, and returns are all included with FBA. Shipping your items via FBA is also the most convenient method to get the Prime badge for most deals. -Amazon buyers opt for things with the Prime emblem because it indicates that they will get quick and free delivery.
The Merchant Fulfilled Network (MFN) option is advantageous for sellers who have a small number of orders to fulfill since the costs associated with shipping, handling, and storage are cheaper than those related to Amazon's FBA fees.
On the other hand, FBA is advantageous for sellers with many orders to fulfill. With this method, all-expense fees in total are cheaper than FBM because of the large number of orders. 
Create your Amazon Seller Account
Making the decision between being a professional seller or an individual seller is essential. The most significant distinctions are in the form of perks and costs.
In the Individual selling plan, you may pay as you go for access to the most basic listing and order management features. Building listings one at a time may be accomplished by matching goods to existing pages in the Amazon catalog or by creating entirely new pages in the Amazon catalog. Because Amazon does not charge fees until an item is sold, it is an excellent starting place for entrepreneurs who are new to online selling.
The Professional selling plan, which requires a monthly membership charge, provides you with access to sophisticated selling tools. You may list and sell products without incurring any additional costs at the expense of a monthly charge (as opposed to a per-item price, as is the case with the individual selling plan). In addition, if you choose the Professional selling plan, you will have access to inventory tools that will allow you to upload batch files and manage your orders via feeds and reports. These tools are particularly advantageous to medium- to large-sized organizations.
Compare several selling strategies to find which is the greatest fit for you.
In the Individual selling plan, you pay a $0.99 per-item fee when an item sells. This plan is good for sellers who have fewer than 40 sales per month.
On the other hand, In the Professional selling plan, You pay a $39.99 monthly subscription fee; it is
good for sellers who sell 40 or more products per month.
Decide What Type of Books You Want to Sell
Despite the fact that there are several methods to locate books to sell, the quickest and most straightforward approach to get started is to sell the books you currently have.
You can also create your own inventory throughout these channels:
Your own bookshelf: Yes, you can sell your used books on Amazon as well!
Wholesale: You may not have complete control over what you get when you buy from wholesale, but you will be able to purchase more books at wholesale prices, which is pretty advantageous.
Online arbitrage: To find low-priced or free books to acquire and resale for a profit, you can look on websites such as bookstore websites, online shopping websites, and social networking websites.
Local sources: Browse used book sales at your local library, used book stores, yard sales, and thrift stores to find the books you're looking for. Estate sales are also a good place to look for rare and collectible books.
Auctions: Look for auctions, estate sales, or farm sales that are offering used or collectible books in good condition.
It's critical to analyze the condition of each book as you go through the process of purchasing them. When you offer your books on Amazon, be sure to follow the precise condition standards. Make sure to review the category-specific criteria for new and used books and specialized products such as collectible books before placing your order.
Set your book pricing
The price of a book is determined by a number of factors, including the kind of book and its condition. Keep an eye on the prices that other book vendors are asking for, and alter your rates as necessary. You can always go back into the system and adjust the pricing at any point in the future. 
Here are some of the most important things that may have an impact on book prices:
In what condition is the book now in?
Is the book in new or used condition?
Is the book valuable as a collectible (for example, a first edition)?
Take into consideration the expenses of packaging and delivery when determining your prices.
While pricing is something you can learn more about and adjust over time, there's an easy way to manage it through Eva.
Eva can let you automatically adjust prices for your available inventory based on your pricing rules and preferences.
List your books on Amazon.
The quickest and most straightforward method of listing books for sale is to go directly to the product page and search for the names of the books you wish to offer. Take the following steps:
In the Amazon search window, enter the ISBN code of the book you want to buy. You must manually input the title if the book was published before 1970.
Once you've arrived at the product listing page, click on the "Sell on Amazon" option to proceed.
Input the SKU (stock keeping unit). Alternatively, you may leave it blank and Amazon will create an SKU for you if you don't know what to put in.
Choose a price that you are comfortable with. Simply click on the icon to the right to match the lowest price.
Enter the total number of items. One unit is set as the default.
Select the condition from the drop-down menu. It's critical to be completely honest about the quality of each book you publish.
Make a decision on your fulfillment channel (FBM or FBA).
Increasing Book Sales on Amazon
While you're selling books on Amazon, check out the following ones:
Amazon BSR (Best Sellers Rank)
The Best Sellers Rank of each product on Amazon is a number, and the lower the total number, the more goods are being sold by the listing. A book with a BSR of less than 100,000 may generate sales quickly while simultaneously avoiding the rigors of strong competition.
Download Amazon's mobile seller application
Selling books on Amazon's mobile seller app is made easier using a scanner, which sellers may use to scan the ISBN number of a book to find out the price of the book, FBA costs, BSR, and any other information they want.
Sales margins can be calculated with the help of the profit calculator. Use it.
Eva's Artificial Intelligence-Enabled Amazon Repricer has a built-in price profit calculator to assist sellers in calculating the profit and return on investment (ROI) for their customers by taking into account all product prices and Amazon fees. Price optimization is made possible by using an AI-powered repricer.
Quick tips for selling your books online
-Research which genres and categories sell best on Amazon
-Be 100% honest about the condition of your books
-Take care when packing and shipping
-Always fulfill your orders on time
-Keep your prices competitive
-Monitor your sales performance
Final Thoughts
Your Amazon seller strategy must include repricing at all times if you want to maintain a competitive advantage over your competitors. However, the procedure may be time-consuming when there are many books to reprice.
To produce more sales and profits for sellers, Eva's AI-Powered Repricer analyzes competition activity in real-time and automatically implements the most profitable approach.
Start Your 15-day Free Trial now and see how Eva grows your business!
Was this article helpful?