Selling books on Amazon is a brilliant idea to generate some extra money and even to get started with your Amazon business development but there is a question here: How to sell books on Amazon?
First thing first, you need to understand how to sell on Amazon, as well as how to discover books to sell on Amazon and what kinds of books you should or should not sell.
Why Selling Books on Amazon?
Selling books on Amazon is a low-risk, low-cost venture. Books never go out of style; everyone enjoys curling up with one while unwinding.
There are always a lot of new books out that people want to get their hands on. This means that the profit margin on book sales is extremely high. However, as a seller, you must research the type of books you want to sell, locate those with the highest demand, or even sell used books.
When your bookshelves are overflowing, reselling books on Amazon is a quick and easy way to make money. You know that situation necessitates a clearing, and instead of disposing of them by throwing them away, reselling is the best option. This way, book lovers can rest assured that their books are being purchased and will not go to waste.
Books are in the top 5 most popular product categories on Amazon. It's also worth mentioning that if you enroll in the FBA fulfillment program, you won't even have to worry about warehousing and shipping!
What Are the Benefits of Selling Books on Amazon?
Reach a Global Audience
When you sell books on Amazon, you have the potential to reach a global audience of millions of readers. Amazon is the largest online retailer in the world, and it has customers in nearly every country on earth. This gives you a much larger potential market for your books than if you were selling through brick-and-mortar stores or other online retailers.
Get More Exposure for Your Books
When you sell books on Amazon, they are automatically included in the Amazon catalog, which is searchable by both customers and other retailers. This means that your books will come up when people search for keywords related to your book's subject matter.
Take Advantage of Amazon's Marketing Tools
When you sell books on Amazon, you can take advantage of their marketing tools to help promote your book. For example, you can create an Author Page on Amazon, which allows you to share information about yourself and your work with potential readers. You can also use Amazon KDP Ads to create to target people who search for keywords related to your book.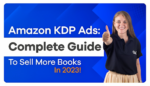 Amazon KDP Ads: Complete Guide To Sell More Books In 2023!
Save Money on Printing and Shipping Costs
When you sell books on Amazon, you don't have to worry about the costs of printing and shipping your books. Amazon takes care of all of that for you. This can save you a significant amount of money, especially if you sell many books.
Every seller who wants to sell books on Amazon should consider value and demand or even find their specific niche. As much as finding the best-selling books matters, Amazon sellers generally sell books based on two main options: new and used books.
What Kind of Books Can You Sell on Amazon
Brand new books are exactly what the name suggests, and we cover this area in a bit. However, many sellers explore their book business with used books. Even though Amazon allows sellers to sell used books on the platform, they state clear condition guidelines for books to prevent misunderstandings and ensure customer satisfaction.
New: A brand-new copy of the book in its original, unopened packaging. It may not have any markings or labels on it.
Used – Like New: The item needs to be in ideal condition to use despite not having the original protective wrapping. The pages have to be clean, but the book can have minor cosmetic defects.
Used – Very Good: Generally, the item is intact and clean. However, it may have minor cosmetic defects or missing packaging, or the book might contain marks on the outer edges.
Used – Good: The book is intact but may contain signs of wear or possible labels on the cover. The text may include limited notes and highlighting.
Used – Acceptable: The book is intact but may have significant markings on it. However, the text still needs to be readable.
Unacceptable: If the pages are missing or the text is unreadable, Amazon does not allow you to sell the book. Additionally, you are not allowed to sell copies of unpublished books.
Selecting the correct condition is essential. If you overestimate the condition, unsatisfied customers may leave you negative reviews that further decrease your seller rating and your chances of winning the Buy Box. Also, Amazon has similar condition criteria for books considered Amazon collectibles.
Where to Start With Selling Books on Amazon
As a first step, you need to figure out how to sell your books. According to this, you can create a strategy to find out how to discover books and what kinds of books you want to sell. Therefore, you need to decide how you will fulfill orders:
Do you want to take charge of your own inventory, packaging, and shipping processes? Alternatively, would you want Amazon to handle everything for you?
In order to fulfill orders as an eCommerce seller on Amazon, you may choose between two options:
Merchant Fulfilled Network (MFN aka FBM) – You are in charge of your own inventory, packing, and shipping of books.
Fulfillment by Amazon (FBA) is a service that allows you to send books to an Amazon Fulfillment Center, and they take care of the rest. Storage, packaging, shipping, customer support, and returns are all included with FBA. Shipping your items via FBA is also the most convenient method to get the Prime badge for most deals. -Amazon buyers opt for things with the Prime emblem because it indicates that they will get quick and free delivery.
The Merchant Fulfilled Network (MFN) option is advantageous for sellers who have a small number of orders to fulfill since the costs associated with shipping, handling, and storage are cheaper than those related to Amazon's FBA fees.
On the other hand, FBA is advantageous for sellers with many orders to fulfill. With this method, all-expense fees in total are cheaper than FBM because of the large number of orders. 
Read More: Best Way to List the Same ITem on Amazon FBA & FBM
How to Choose a Fulfillment Method for Selling Books on Amazon
After setting up your account, you need to figure out how to ship the books to your customers.
There are two ways to fulfill your orders on Amazon: FBA and FBM.
Fulfillment by Amazon (FBA)
Fulfillment by Amazon is quite an easy solution for sellers, and it's especially suitable if you have many orders to fulfill. Typically you ship the books in bulk to one of the Amazon fulfillment centers, and the eCommerce giant stores your inventory. When you sell a book through FBA, Amazon picks, packs, and ships the items on your behalf. Moreover, they also provide customer service. Instead of paying for multiple costs, the Amazon FBA fee covers all these services. 
Using FBA also has some additional benefits. It gives you access to a fast Amazon Prime shipping option, which might be a determining factor in purchasing decisions. Moreover, since Amazon is responsible for the shipping, you don't have to worry about any negative reviews that might harm your business.
Fulfillment by Merchant (FBM)
Fulfillment by merchant pr Amazon FBM means that sellers are responsible for storing and shipping their inventory. When you sell a book on Amazon, you pack and ship the book yourself, using the courier of your choice.
You don't have to pay any additional Amazon fees and have full control over the stock. On the other hand, shipping and providing customer service can be both time-consuming and expensive. However, if you have the time and strong distribution channels, you can save money by fulfilling the orders yourself.
There is no clear answer on which one to choose for your business. The fulfillment option that you select depends on your cost structure and the resources at your disposal.
See Also: Amazon FBA vs FBM
The Best Pricing Strategy for Selling Books on Amazon
The price of a book is determined by a number of factors, including the kind of book and its condition. Keep an eye on the prices that other book vendors are asking for, and alter your rates as necessary. You can always go back into the system and adjust the pricing at any point in the future.
Here are some of the most important things that may have an impact on book prices:
In what condition is the book now?
Is the book in new or used condition?
Is the book valuable as a collectible (for example, a first edition)?
Take into consideration the expenses of packaging and delivery when determining your prices.
While pricing is something you can learn more about and adjust over time, there's an easy way to manage it through Eva.
Eva can let you automatically adjust prices for your available inventory based on your pricing rules and preferences.
How to List Your Book on Amazon?
Once you have set up your account, you can start listing your books on Amazon. The easiest way to create a listing is to find an ISBN on the back of the book and type it into the Amazon search bar. The International Standard Book Number (ISBN) is a unique book identifier that distinguishes it from others.
Once you enter the code, you will find a button on the product's listing page that says "Sell on Amazon." However, if the book was printed before 1970, it doesn't have an ISBN. In that case, you have to enter the title manually and create a new listing for the book.
After clicking the button, you get the following information to be filled in:
Seller SKU – This is a code that you decide to identify a specific product. We recommend creating a code that has some logic behind it and is easy to remember. However, if you leave it empty, Amazon randomly generates a code for your book.
Price – When deciding a price for your book, we recommend considering the condition and shipping costs. Typically, books in better condition tend to sell at a higher price. Additionally, you ensure that you profit from the sale. Calculating the shipping costs based on your fulfillment method helps you set a minimum price for your book.
Quantity – Enter the number of copies you have for sale. The default quantity is one unit.
Fulfillment Channel – The choices are either FBM or FBA. Select the one that suits your business the best. However, keep in mind that fulfilling the order by yourself activates your listing in less than 30 minutes. Fulfillment by Amazon takes 1 to 2 weeks since you have to first ship the books to one of the fulfillment centers and wait for the Amazon staff to list them.
Tips for Boosting Your Book Sales on Amazon
Get the Amazon BSR (Best Sellers Rank)
The Best Sellers Rank of each product on Amazon is a number, and the lower the total number, the more goods are being sold by the listing. A book with a BSR of less than 100,000 may generate sales quickly while simultaneously avoiding the rigors of strong competition.
Download Amazon's mobile seller application
Selling books on Amazon's mobile seller app is made easier using a scanner, which sellers may use to scan the ISBN number of a book to find out the price of the book, FBA costs, BSR, and any other information they want.
Calculate sales margins can be calculated precisely.
Eva's AI-powered Amazon Pricing Tool has a built-in price profit calculator to assist sellers in calculating the profit and return on investment (ROI) for their customers by taking into account all product prices and Amazon fees. Price optimization is made possible by using an AI-powered tool.
Frequently Asked Questions (FAQs)
How fast do books sell on Amazon FBA?
It depends on a number of factors, including the book's category, whether it's a new or used book, the condition of the book, and so on. Generally speaking, new books tend to sell faster than used books, and hardcover books tend to sell faster than paperback books.
How many books did Amazon sell in 1995?
Amazon sold 1 million copies in 1995, which was incredibly unexpected for an online shop at that time.
How much can you make selling books on Amazon FBA?
Answer: It really depends on the book. If you have a popular book, you could make a lot of money. But if you have a less popular book, your profits will be lower.

Generally speaking, though, you can make anywhere from $2 to $10 per book that you sell. So if you have a hundred books to sell, that's anywhere from $200 to $1,000 in profit. Not too bad!

Of course, there are other costs to consider as well. For example, you'll need to pay for shipping and packaging supplies, and you may also need to pay for storage space in Amazon's warehouses. But overall, selling books on Amazon is a very lucrative business venture.

How many physical books does Amazon sell per year?
In 2021, 826 million copies of physical books were sold. That shows a growth of 8.9% over the previous year.
Is it easier to sell books on eBay or Amazon?
Answer: It is easier to sell books on Amazon. Amazon is the dominant player in the online retail market and has a larger customer base than eBay.

Furthermore, Amazon offers a more comprehensive suite of features for sellers, including the ability to create product pages, list products for sale, and manage orders. eBay does not offer as many features for sellers and as a result, selling books on eBay can be more challenging.
When did Amazon start selling items other than books?
In 1998, Amazon started selling music CDs, toys, and other categories one after another.
Is selling used books on Amazon worth it?
It depends. If you're looking to just make a little extra cash here and there, it's probably not worth it because of the time it takes to individually list each book. However, if you have a lot of books that you're looking to get rid of, Amazon can be a great way to do that and make a little bit of money in the process.
Do you need to be ungated to sell books on Amazon?
No. Book is totally ungated category on Amazon.
Will books be on sale on Amazon Prime Day?
Yes, books will be on sale on Amazon Prime Day. In fact, many sellers choose to sell their products on Amazon because it's a great way to reach a large audience of buyers.

Amazon also offers great customer service and often has the best prices around. So if you're looking to buy some books, be sure to check out Prime Day!
Read More: How to Sell Digital Products on Amazon
How Can Eva Help You Sell Books on Amazon?
Eva combines superhuman artificial intelligence technology with top human eCommerce expertise to create an all-in-one platform for your Amazon bookstore to meet all your needs, from pricing and Amazon advertising to 3PL logistics and returns management.
By deeply integrating pricing and supply chain management, Eva's revolutionary platform ensures that you have maximized sales and profit without ever going out of stock or overstocked.
You are always welcome to give Eva a try with a 15-day Free Trial — the results speak for themselves!
Conclusion
Not only book is a popular product category on Amazon, but they're also one of the easiest items to resell. You don't even have to worry about shipping them yourself-Amazon will take care of that for you.
If your bookshelves are overflowing and you're looking for a way to make some extra money, consider reselling books on Amazon. And if you're not sure where to start, we can help! Our team of experts is happy to provide a free consultation and help get you started selling used books online.